Commentary
The first ballad begins: 'Jenny, my own true loved one, / I'm going far from thee'. 'The Song of the Emigrant' begins: 'I'm lying on a foreign shore, / An' hear the birdies sing'. The final ballad on this sheet, Norah Magee', begins: 'Norah, dear Norah, I can't live without you, / What made you leave me to cross the wide sea?' The sheet was published in Alexandria, outside Glasgow, by C.R. Gilchrist & Sons.
Publishing three ballads on one sheet would have made this broadside much more attractive to potential purchasers. They would see it as offering excellent value for money, since one, sometimes two, ballads per sheet was the norm. C.R. Gilchrist & Sons have also used the extra space at the bottom of the sheet to promote their other publications: 'The Beauties of Robert Burns', 'Songs of Bonnie Scotland' and 'Rale Songs of Ould Ireland'. These titles would have held a special appeal for Scots who had emigrated overseas.
Early ballads were dramatic or humorous narrative songs derived from folk culture that predated printing. Originally perpetuated by word of mouth, many ballads survive because they were recorded on broadsides. Musical notation was rarely printed, as tunes were usually established favourites. The term 'ballad' eventually applied more broadly to any kind of topical or popular verse.

Probable period of publication: 1880-1900 shelfmark: RB.m.143(032)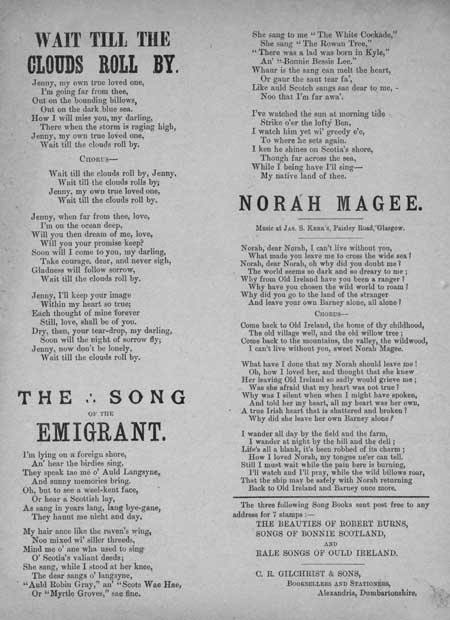 View larger image