Commentary
The first ballad begins: 'There once was a cobbler by name Toby Brad, / Though he lived in a stall yet he didn't live bad, / with a tol de rol lol, &c.' There are no publication details on the sheet.
The second ballad begins: 'THE morning broke in blushes o'er me / As up the sunny hills I stray'd, / A beautious form appeared before me, When thus I spoke the lovely maid.'
The first ballad is about a cobbler, Toby Brad. Initially the reader is led to believe that, whilst at work mending shoes, he is visited by the devil. However, events take a comic turn when he discovers it was only some young boys trying to 'funk' or scare him. The second ballad is a traditionally romantic love song.

Probable period of publication: 1880-1900 shelfmark: RB.m.143(022)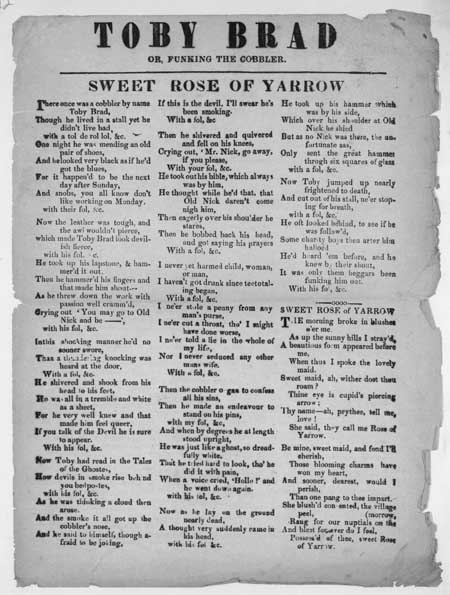 View larger image