Commentary
The ballad begins: 'Busk ye, busk ye, my bonnie, bonnie bride! / Busk ye, busk ye, my winsome marrow! / Busk ye, busk ye, my bonnie, bonnie bride, / And think nae mair of the braes of Yarrow.' A note below the title states that this ballad was to be sung to an original tune. Sold for a penny, a further note below the title states that 'Copies can always be had in the Poet's Box, 80 London Street, Glasgow'. Strangely, however, to the left of this scored-out Glasgow address, the address of the Poet's Box in Dundee has been stamped on the sheet. A footnote affirms that the sheet was published on Saturday the 2nd of July, 1870.
This well-known ballad goes under a number of alternative titles and variants, while the story at the heart of the song has been investigated and written about by James Hogg and Sir Walter Scott. In short, the ballad tells the tragic tale of some brothers who, disapproving of their sister's fiance, murder the unfortunate suitor. The sister dreams that she and her lover are together in Yarrow (near Selkirk), picking green heather. This dream is supposed to symbolise the death of her lover. Sir Walter Scott's theory that the ballad is based on a duel between John Scott of Tushielaw and his brother-in-law, Walter Scott of Thirlestane, is the interpretation favoured by the collector and publisher of ballads, Francis J. Child.
The Poet?s Box in Glasgow operated from 1849 to 1911. Matthew Leitch was the proprietor at 6 St. Andrew Lane?s, a narrow street on the south side of Gallowgate, from 1850 to 1858. His son William Munsie Leitch worked at the same address from 1859 to 1865 and at varous addresses in London Street until 1911. Many of the broadsides published by the Glasgow Poet?s Box were dated and some carried advertisements, not just for printed items but also for shoe blacking and ?soap for lovers?! Like the other ?boxes? in Dundee and Edinburgh, the Glasgow one sold love songs, sea shanties, parodies and dialogues. It is not clear what the connection between the different Poet?s Boxes were. They almost certainly sold each other?s sheets. It is known that John Sanderson in Edinburgh often wrote to the Leitches in Glasgow for songs and that later his brother Charles obtained copies of songs from the Dundee Poet?s Box. There was also a Poet?s Box in Belfast from 1846 to 1856 at the address of the printer James Moore, and one in Paisley in the early 1850s owned by William Anderson.
Early ballads were dramatic or humorous narrative songs derived from folk culture that predated printing. Originally perpetuated by word of mouth, many ballads survive because they were recorded on broadsides. Musical notation was rarely printed, as tunes were usually established favourites. The term 'ballad' eventually applied more broadly to any kind of topical or popular verse.

Date of publication: 1870 shelfmark: RB.m.143(003)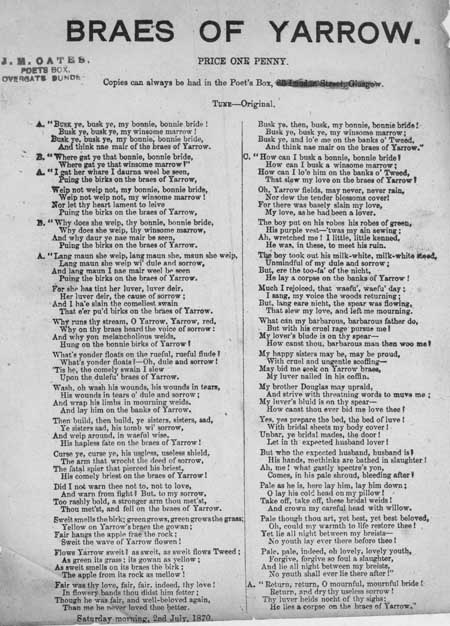 View larger image