Commentary
This execution notice begins: 'The last Speech and dying Declaration of JAMES HENDERSON, late in Bainshole, who was executed at Aberdeen, on Friday the 29th day of October 1790, for the murder of Alexander Gillespie, Slater, and his body given to the Surgeons to be dissected.' This sheet was first printed in Aberdeen by James Chalmers and then reprinted in Glasgow.

Henderson murdered Gillespie with an axe, when the latter called peacably at his house, asking for a drink. James Chalmers (1742-1810), the son of James Chalmers, enjoyed a full and varied career in the field of publishing. Although broadsides and chapbooks produced by him survive, he was also responsible for publishing religious volumes and story-books. He began business in 1764 and became a Company in 1771. He also went into the paper-mill business with his son-in-law. He eventually became embroiled in an inconclusive pamphlet war with George Forbes, a Dundonian advocate.
Reports recounting dark and salacious deeds were popular with the public, and, like today's sensationalist tabloids, sold in large numbers. Crimes could generate sequences of sheets covering descriptive accounts, court proceedings, last words, lamentations and executions as they occurred. As competition was fierce, immediacy was paramount, and these occasions provided an opportunity for printers and patterers to maximise sales.

Date of publication: 1790 shelfmark: 6.365(104)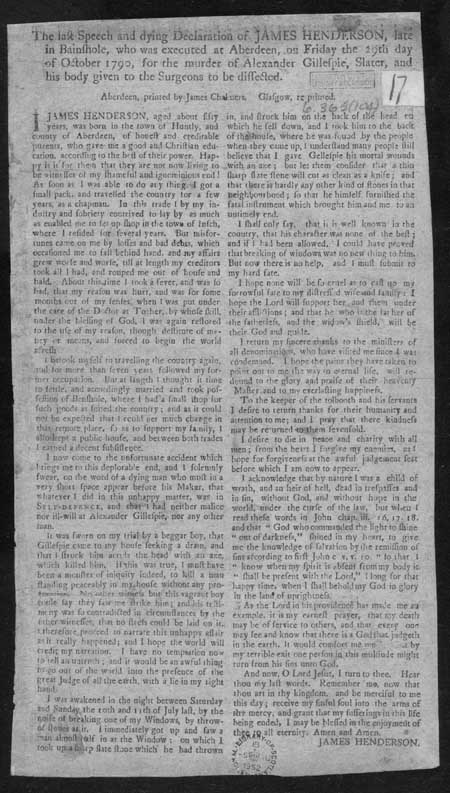 View larger image