Transcription
THE LAST
Confession and dying words of Donald M'Craw, who was exe-
cuted at Perth, and his body given to the Doctors for dessec-
tion, on Friday the 13th Nov. 1795, for the horrid murder
of his wife Ann Adam, when she was within a month of be-
ing delivered of a child.
I Donald M'Craw was born in the Shire of Inverness, and am now about 36 years of
age. My parents were sober honest industrious people, and as my inclination did not
induce me to the laborious toil of husband work, I was learned the trade of weaving.
As my native part of the country is not the best of places for that trade, I had not long
finished my apprenticeship until I travelled south to improve, myself in my trade. I tra-
velled to Glasgow, where I made myself better acquainted with several branches of my
calling, and learned to work muslins of several forts, which having done 1 came to this
place to settle, and might have lived very comfortable, if it had not been for that curse
to all peace and happiness, an overbearing temper in myself, and a fractious discontented
temper in my unfortunate wife, blasted all our conjugal happiness, so that instead of bear-
ing with one another, as we are commanded in scripture, I Pet. iii. 7,-?II. our time
was unhappily spent in mutual railings, upbraidings, threatenings, and even blows. In
In this most disagreeable life we lived for several years, but wickedness did not stop here,
which may teach those who have the pattern of dreadful example before them, how dan-
gerous a thing it is to live a wicked life, and how any vice persevered in grows in us like
a second nature, and rare if it be ever left off. I had long made a practice of beating
my unhappy wife, custom made me almost think it no crime till it ended in the horrid
crime of murder! And that at a time, which made it a double crime, when she had only
one month between her and childbed. Oh how unhappy have I been, to embrue my
hands in the blood of my helpless wife, and my innocent unborn offspring. I no sooner
committed the horrid crime, and saw her lying lifeless, than I was seized with such a
trembling horror, that had I been lord of a thousand worlds, I would freely have given
them all to have had the horrid deed recalled ; but alas! it was done past recalling. I
had no thought nor power to fly from the justice my crime deserved, until a woman who
was my neighbour, bade me run for my life. I took her advice, and ran for a few miles
until I was out of breath, and then began to reflect that I could not fly from the pre-
fence of an all seeing God, nor run from the guilty conscience that now overwhelmed
my heart; for should I fly to the uttermost corner of the earth,I would still be in his
presence, and ray guilt would accompany me. I therefore thought it would be better
to give myself up to justice, and suffer what I justly deserv'd, than live with the pangs
of a guilty conscience which are worse than death. With these reflections I surrender-
ed myself up; my mind for a little was more easy and calm, but upon reflecting what
would become of my poor foul when I must shortly appear before the presence of the
Almighty, I was almost distracted, but yet there is hope through the merits of Jesus
Christ The Revd. ministers who have attended me, have shewn me from Scripture that
my sins are still pardonable; but I am sure nothing less than the atoning blood of Christ
that cleanseth from all sin, can purge away the sins of such complicated wickedness as I
have been guilty of.
I hope all good Christians will join with me, while I am in life, that I may get an in-
terest in the Redeemer, and pardon for the greatest and worst of all crimes. I forgive
my Judges and Jury as they only did their duty. I forgive all who have done me any
injury, and hope all persons will forgive me, I return thanks to the jailors for their hu-
mane treatment of me, and die in peace with all men. I have no desire to live any long-
er, but wait my appointed time with an humble hope and dependence on God for ac-
ceptance through the merits and mediation of Jesus, into whose hand I commit my de-
paning Spirit,
DONALD M'CRAW
Perth 12th Nov, 1795.
1952

Date of publication: 1795 shelfmark: 6.365(098)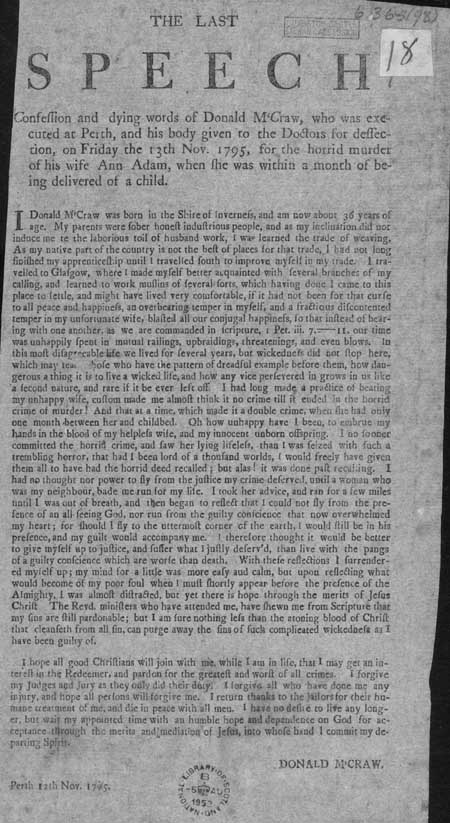 View larger image