Commentary
This report begins: 'THE LAST SPEECH Confession and Dying Words of Donald M'Craw, who was executed at Perth, and his body given to the Doctors for dessection, on Friday the 13th Nov. 1795, for the horrid murder of his wife Ann Adam, when she was within a month of being delivered of a child.' It was published in Perth on 12th November 1795.
The early life of Donald McCraw, described here, follows a pattern that was increasingly common in late eighteenth- and early nineteenth-century Scotland. In order to make a living, McCraw had to leave his native Highlands and travel to Glasgow to find work as a weaver. The industrial revolution, firstly in the textiles sector, then later in iron and shipbuilding, saw the population of central lowland Scotland increase dramatically, largely due to migration from the Highlands and Ireland. For many migrants, working and living conditions were harsh, but McCraw does not blame this for the circumstances that caused him to murder his wife, attributing his crime to an 'overbearing temper'.
Broadsides are single sheets of paper, printed on one side, to be read unfolded. They carried public information such as proclamations as well as ballads and news of the day. Cheaply available, they were sold on the streets by pedlars and chapmen. Broadsides offer a valuable insight into many aspects of the society they were published in, and the National Library of Scotland holds over 250,000 of them.

Date of publication: 1795 shelfmark: 6.365(098)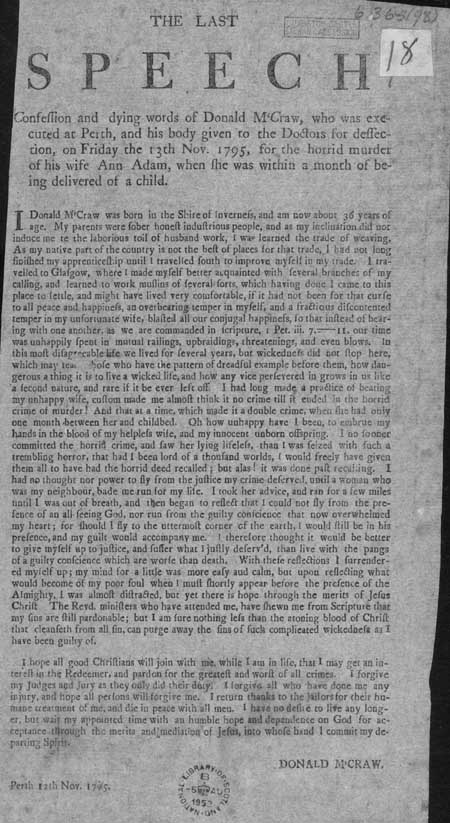 View larger image