Commentary
Verse 1: IN Heriot's-Walks as I was Roving, / I met my Love, she gayly drest, / Frown'd when I talkt to her of Loving / And bid me set my Heart at rest. / How! set my Heart at rest? Dear Angel, / O tell me quickly, Fair one do? / You may go Rove on, and Range Still, / For never shall Man my Heart Subdue.' This ballad was composed by 'Mr Ramondon, Senior', to be sung 'To it's own Proper Tune'. It was published and sold by John Reid of Pearson's Close, off the High Street in Edinburgh, in 1715.
This ballad, in common with many published in the eighteenth century, focuses on the morality of affairs outside wedlock. Typically in these ballads, men are portrayed as being in thrall to their impulses: women are expected to take responsibilty for ensuring that the accepted boundaries of propriety are not crossed, and are condemned if they are. Today the contents of this ballad, where a male narrator claims he has talked an initially reluctant partner into 'kind non-resistance', would be regarded as questionable.
Early ballads were dramatic or humorous narrative songs derived from folk culture that predated printing. Originally perpetuated by word of mouth, many ballads survive because they were recorded on broadsides. Musical notation was rarely printed, as tunes were usually established favourites. The term 'ballad' eventually applied more broadly to any kind of topical or popular verse.

Date of publication: 1715 shelfmark: 6.365(002)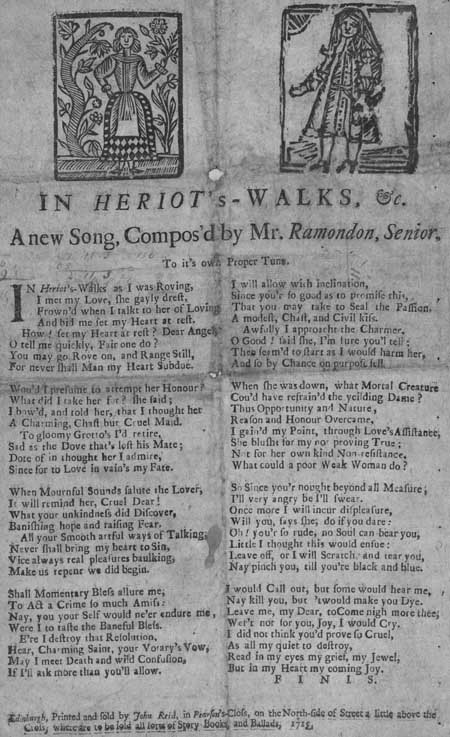 View larger image