Commentary
This broadside letter begins: 'MR JOHN DOWIE, Libberton's Wynd, Edinburgh. / DEAR JOHNNIE, / I cannot with-hold this tribute of my gratitude from you.' The letter is marked 'EDINBURGH, / 14th Sept. 1789', and is followed by a poem entitled 'Johnnie Dowie's Ale'.
This curious piece of comedy theatre is more like an advert for Johnnie Dowie's alehouse. The fact that an entertaining poem is included, perhaps confused people into buying before they realised it was a marketing ploy. Ale-houses brewed their own beer at the time, so advertising the quality and taste of it was marketing angle. Libberton's Wynd was also where most of the hangings in Edinburgh occurred and so there was probably a lot of money to made if the public knew where you were.
Broadsides are single sheets of paper, printed on one side, to be read unfolded. They carried public information such as proclamations as well as ballads and news of the day. Cheaply available, they were sold on the streets by pedlars and chapmen. Broadsides offer a valuable insight into many aspects of the society they were published in, and the National Library of Scotland holds over 250,000 of them.

Probable date published: 1789 shelfmark: L.C.1268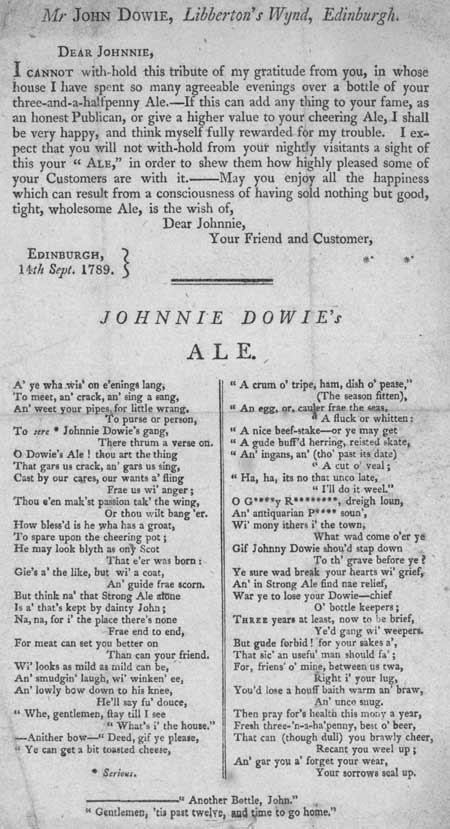 View larger image