Commentary
This broadside begins: 'Auld Reekie's Lament for John Kennedy, LATE OF THE EDINBURGH-CITY GUARD, Who Died October 1832, above Eighty years of age, -the best of which time he spent in Edinburgh. He was beloved by all who knew him, for his simplicity and kindly deportment.' The lamentation begins (sung to the tune of 'Johny Cope'): 'JOHN KENNEDY is e'en awa, / The best o' men we ever saw'. An epitaph has also been included, along with a witty anecdote involving the deceased.
Included at the top of this sheet is the coat of arms of the City of Edinburgh, along with the motto 'nisi dominus frustra' (all is in vain without the lord). To warrant this heartfelt remembrance, John Kennedy must have been a well-liked and popular figure around Edinburgh. As with many of the elegies and lamentations contained in the National Library of Scotland's broadside collection, however, this once prominent and notable character has been forgotten with the passing of years.
Broadsides are single sheets of paper, printed on one side, to be read unfolded. They carried public information such as proclamations as well as ballads and news of the day. Cheaply available, they were sold on the streets by pedlars and chapmen. Broadsides offer a valuable insight into many aspects of the society they were published in, and the National Library of Scotland holds over 250,000 of them.

Probable date published: 1832 shelfmark: L.C.1268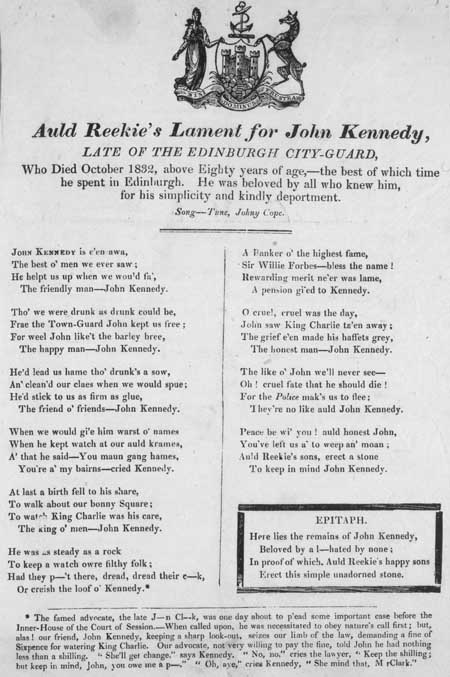 View larger image