Commentary
This broadside begins: 'On account of the late unfortunate Fight between the Champion M'Kay, and Byrne, several great Battles has been fought in the city of Glasgow, with the Byrneites, and the friends of M'Kay'. The elegy begins: 'Has Auld King Geordie slipp'd awa', / Or Wellington, or Peel, or wha'. It was published by Carmichael and Graham of Glasgow on the 10th June 1830.
This particular elegy mourns the death of the champion Scottish boxer, Sandy (Alexander) McKay, who died of a brain haemorrhage on the 3rd June, 1830. His injuries resulted from a boxing match against Symon Byrne (or Burn), the champion of Ireland, which took place at Salcey Green, Northamptonshire, on the 2nd June of the same year. Although arrested for McKay's murder, following a trial weighted in his favour, Byrne eventually walked free. He was defeated in a contest for the championship of England against Jem Ward in 1831. In 1833 he died at St. Albans after a fight with James 'Deaf' Burke.
Broadsides are single sheets of paper, printed on one side, to be read unfolded. They carried public information such as proclamations as well as ballads and news of the day. Cheaply available, they were sold on the streets by pedlars and chapmen. Broadsides offer a valuable insight into many aspects of the society they were published in, and the National Library of Scotland holds over 250,000 of them.

Date of publication: 1830 shelfmark: L.C.1268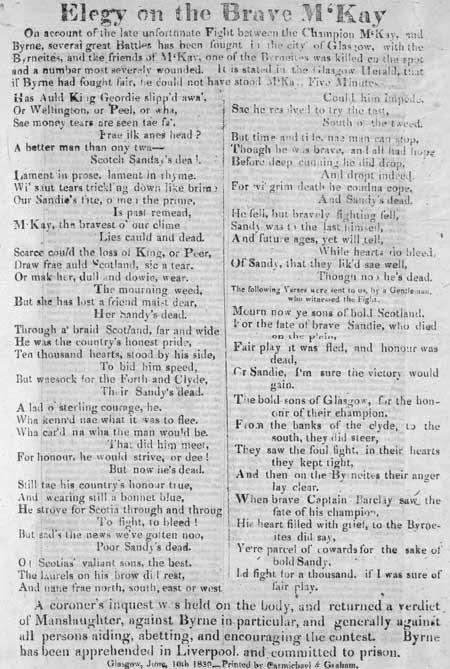 View larger image