Commentary
This account begins: 'ORGANIC AFFECTIONS. / OR An Account of A MEETING HELD IN THE RELIEF CHURCH, ST JAMES' PLACE, TO Consider the use of an ORGAN in Public Worship.' A light-hearted dialogue at the bottom of the sheet reads: 'Is it not absurd for such illiterate and vulgar speaking men to be rulers of a church? Wha's that talkin' there? WILLIE SMITH! gi'e him a daud i' the lug the daft brute, what right has he to set up his chat! / Stand yont or I shave him! ! ! han' me yir Stick Tam'.
'Willie Smith' refers to the publisher William Smith, who was responsible for publishing this account. Although no date is provided on this sheet, it is known that Smith had premises at 3 Bristo Port, Edinburgh, between 1824 and 1829, which would suggest that this broadside was published between these years. During this time, he also had premises at 47 Crosscauseway. He is known to have produced a large number of humorous broadsides and chapbooks, some of which are included in the National Library of Scotland's broadside collection.
Broadsides are single sheets of paper, printed on one side, to be read unfolded. They carried public information such as proclamations as well as ballads and news of the day. Cheaply available, they were sold on the streets by pedlars and chapmen. Broadsides offer a valuable insight into many aspects of the society they were published in, and the National Library of Scotland holds over 250,000 of them.

Date of publication: 1824-1829 shelfmark: L.C.1268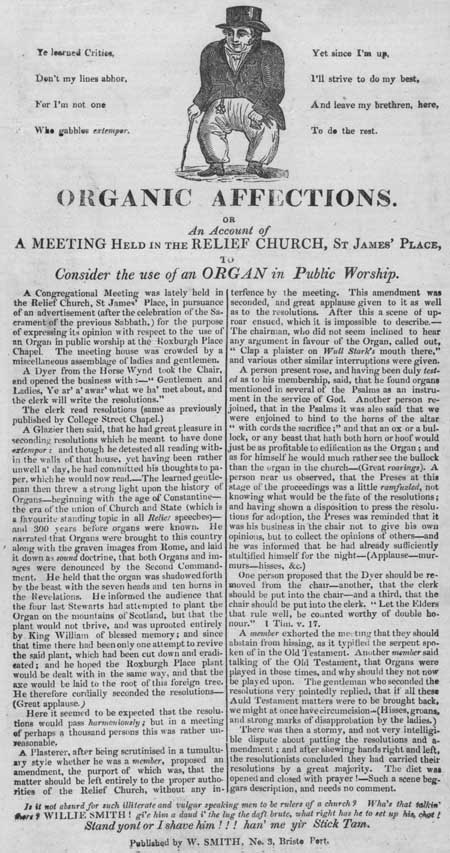 View larger image