Commentary
This broadside begins: 'CONTENTS OF TWO DRAWERS OF A SIDEBOARD, In a certain Hotel, North of John o' Groat's. / 'If there's a hole in a' your coats, / I rede you tent it : / A chield's amang you takin notes, / And, faith! He'll prent it.' The name of the author is, appropriately, 'A TRAVELLER', and it appears to have been written in an Orkney hotel on the 6th June 1828.
A handwritten note at the bottom of the sheet reads: 'by George Webster / Merchant / Darlington'. Whether this is the actual name of the author is unclear. This light-hearted ditty would have appealed to a large number of broadside readers. Easy to memorise and recite, this type of humorous verse was often used to entertain those gathered in the inns and taverns of the day.
Broadsides are single sheets of paper, printed on one side, to be read unfolded. They carried public information such as proclamations as well as ballads and news of the day. Cheaply available, they were sold on the streets by pedlars and chapmen. Broadsides offer a valuable insight into many aspects of the society they were published in, and the National Library of Scotland holds over 250,000 of them.

Probable date published: 1828 shelfmark: L.C.1268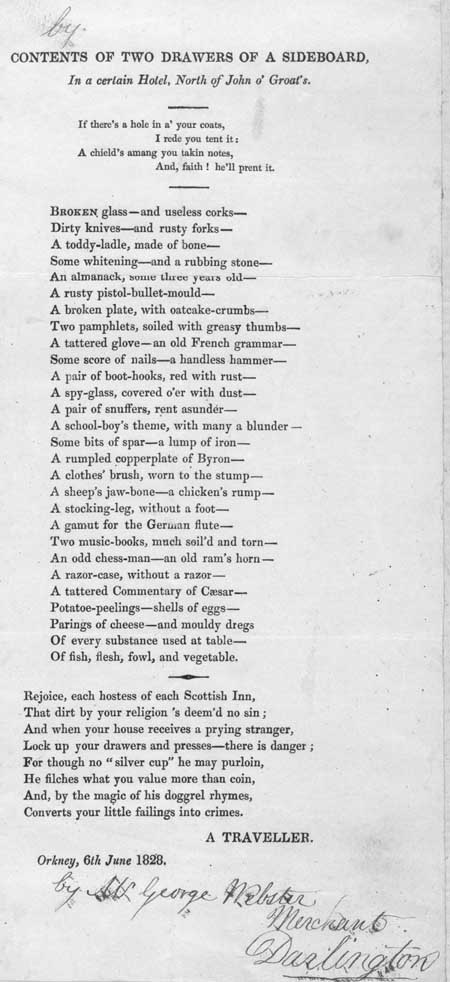 View larger image