Commentary
This broadside begins: 'UNTO THE RIGHT HONOURABLE The Lords of Council and Session, THE PETITION OF THE CLERKS and APPRENTICES of Writers to the Signet, and Writers in Edinburgh'. The petition begins: 'Humbly Sheweth, That your Petitioners, with much regret, Take up your Lordships' time their ills to state'. It was published by W. Smith of 3 Bristo Port, Edinburgh, and includes a woodcut illustration.
The Writers to the Signet, are an organization of solicitors that originated from the 15th-century Keepers of the King's Seal, or signet. Although no publication date has been provided on this broadside, it is known that William Smith was resident at 3 Bristo Port between the years 1824 and 1829. It seems likely, therefore, that this sheet was published around that time. Smith's first publication, of which he was also the author, appeared in 1822 and was entitled 'First lessons in teaching a child to read and spell English'. He went on to produce a large number of humorous and instructional broadsides and chapbooks, some of which are also contained in the National Library of Scotland's broadside collection.
Broadsides are single sheets of paper, printed on one side, to be read unfolded. They carried public information such as proclamations as well as ballads and news of the day. Cheaply available, they were sold on the streets by pedlars and chapmen. Broadsides offer a valuable insight into many aspects of the society they were published in, and the National Library of Scotland holds over 250,000 of them.

Likely date of publication: 1824-1829 shelfmark: L.C.1268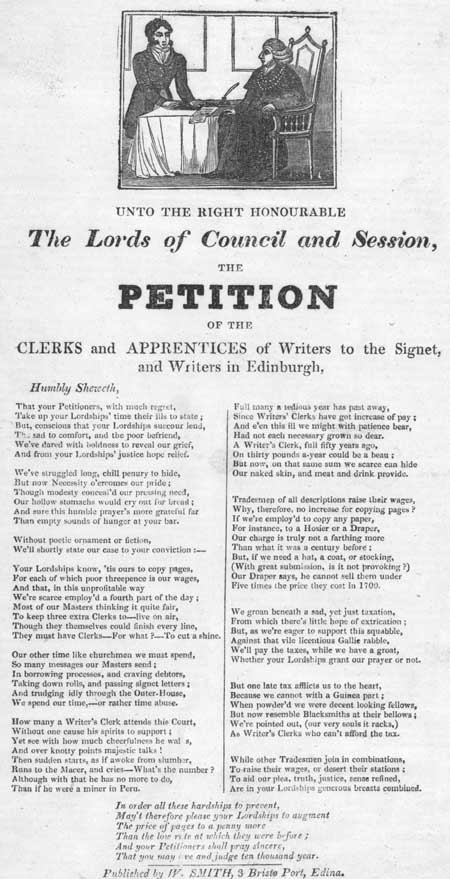 View larger image