Commentary
This report begins: 'A full and particular Account of the Sale of a Woman, named Mary Mackintosh, which took place on Wednesday Evening, the 16th of July, 1828, in the Grass Market of Edinburgh, accused by her Husband of being a notorious Drunkard; with the Particulars of the bloody Battle which took place afterwards.' It was printed by W. Boag of Newcastle, and probably sold for one penny.
This rather disturbing incident must have sparked considerable interest for it to be picked up by a Newcastle publisher. In most instances, local events were largely reported by local publishers. It is reassuring that people at the time, in particular women, were shocked and outraged by these events and attempted to halt the proceedings. As Mary MacKintosh would have known only too well, a woman who entered into marriage at this time automatically became the property of her husband.
Broadsides are single sheets of paper, printed on one side, to be read unfolded. They carried public information such as proclamations as well as ballads and news of the day. Cheaply available, they were sold on the streets by pedlars and chapmen. Broadsides offer a valuable insight into many aspects of the society they were published in, and the National Library of Scotland holds over 250,000 of them.

Probable date published: 1828 shelfmark: L.C.1268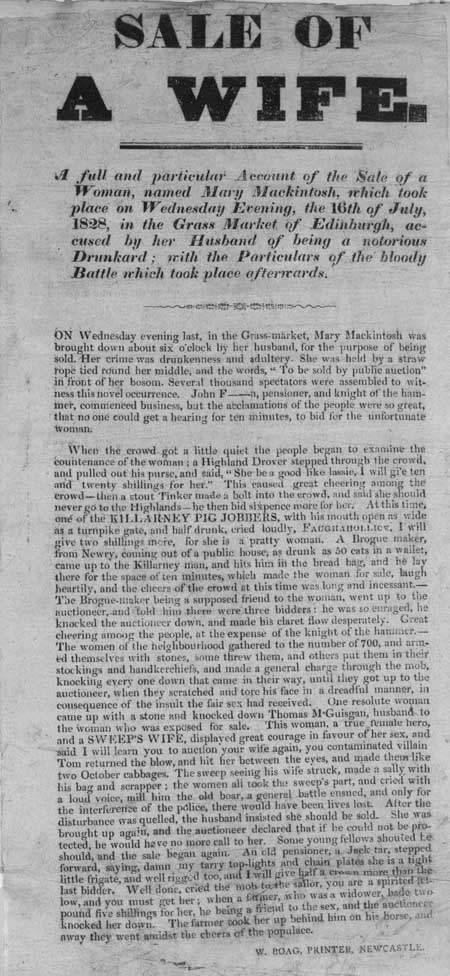 View larger image