Commentary
This love letter begins: 'Hast thou no pity for my woes? / Dost thou at me turn up thy nose? / I'll make my declaration first, / So read straight forward and be curst, / But if your heart to me incline, / Oh! Jump o'er every other line!'. This broadside was published by Menzies of Edinburgh, and probably sold for one penny.
The individual responsible for this alternative love letter has taken the opportunity to vent their spleen towards what would traditionally have been the object of their affection. What begins to all intents and purposes as a genuine love letter, soon descends into a single-minded character assassination. These sentiments were probably far more popular with broadside readers than if they were those of a genuine love letter. It turns the notion of the traditional love letter on its head and, in doing so, makes for great comedy.
Broadsides are single sheets of paper, printed on one side, to be read unfolded. They carried public information such as proclamations as well as ballads and news of the day. Cheaply available, they were sold on the streets by pedlars and chapmen. Broadsides offer a valuable insight into many aspects of the society they were published in, and the National Library of Scotland holds over 250,000 of them.

Probable date of publication: 1830-1840 shelfmark: L.C.1268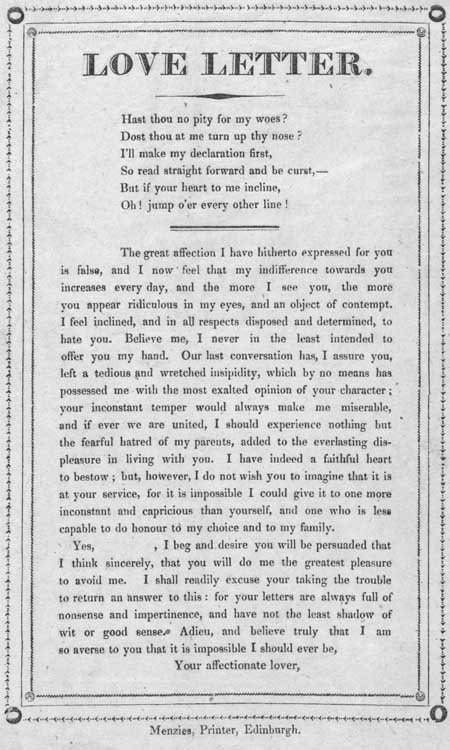 View larger image