Commentary
The letter is addressed to Dear Isabella and, with the use of rather novel hieroglyphics, begins: 'Hoping the goodness of your heart will excuse my presumption, I have at last been induced to offer you my hand, dreading the farther competition of a certain one eyed maker of shoes . . .' It was published by Sanderson of the High Street, Edinburgh, and was made available to 'Travellers and Hawkers'.
It appears that the sender, Archibald Wilkie, was in competition with another suitor for Isabella's affections. He urges her not to listen to any rumours she might have heard, but to meet him beside her master's gate at 8 o'clock on Sunday. The charm of this letter is to be found in the use of the hieroglyphs, without which it would probably have elicited very little interest.
Broadsides are single sheets of paper, printed on one side, to be read unfolded. They carried public information such as proclamations as well as ballads and news of the day. Cheaply available, they were sold on the streets by pedlars and chapmen. Broadsides offer a valuable insight into many aspects of the society they were published in, and the National Library of Scotland holds over 250,000 of them.

Probable date published: 1830-1840 shelfmark: L.C.1268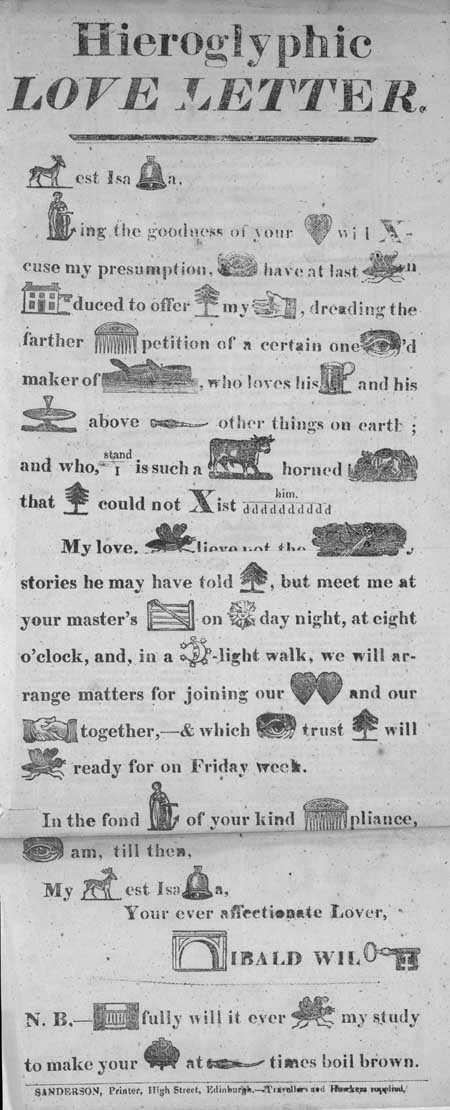 View larger image