Commentary
The story's title reads: 'This is a particular Account, founded on fact, of two young rovin' youths, who courted Lasses for cake an' puddin'.' Under the title, there is an introductory verse which reads: 'You do now see, as well as I / These twa young wanton sluts ;/ Who've taken in these hungry fellows, / To fill their empty guts.' Although the date of publication is not included, a note at the foot of the sheet states that it was 'Published by W. SMITH, No. 3, Bristo Port', which is an Edinburgh address.
This broadside contains a light-hearted story that was written to entertain its audience, by playing on the old maxim that the route to a man's heart is through his stomach. Thus, we have a situation whereby two servant girls invite their boyfriends in for a meal. However, it seems that their masters, a minister and his wife, do not approve of servants having their friends visit them. So when the minister's wife appears unexpectedly, a whole series of comic episodes occur, as the girls try to hide their suitors in the house. The ailments that afflict the two suitors as a result of their adventure, could be interpreted as a mild moral warning to servants to improve their conduct.
Broadsides are single sheets of paper, printed on one side, to be read unfolded. They carried public information such as proclamations as well as ballads and news of the day. Cheaply available, they were sold on the streets by pedlars and chapmen. Broadsides offer a valuable insight into many aspects of the society they were published in, and the National Library of Scotland holds over 250,000 of them.

Probable period of publication: 1820-1830 shelfmark: L.C.1268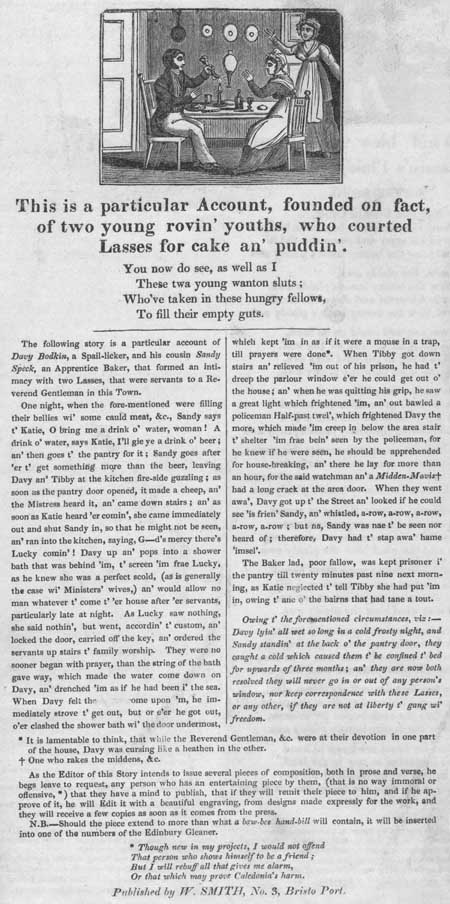 View larger image