Commentary
The introductory verse reads: 'Madam, Since I've fallen in love with you, I hope you'll 'gree to be my wife; / I'll give you all that you request, and we'll both live a happy life. / No, Sir, an old maiden I shall remain, tho' all the world should me despise - / A married life I should disdain, the truth for none I will disguise.' Although the date of publication is not included, a note at the foot of the sheet states that it was 'Published by W. SMITH, No. 3, Bristo Port', which is an Edinburgh address.
Illustrated with a relevant woodcut, this erudite broadside, written in verse form, comprises a lively Socratic dialogue between a bachelor (of undetermined age) and an old maiden. This dialogue is quite philosophical in tone, and centres around the bachelor's efforts to find out why the old maiden has never married - perhaps revealingly, the bachelor does not have to explain why he is not married. The playful dialogue then climaxes with an offer of proposal from the bachelor - a development that panics the old maiden. With the issue unresolved, the dialogue ends with the bachelor singing a song and asking the old maiden just to 'name the day'.
Broadsides are often crudely illustrated with woodcuts - the earliest form of printed illustration, first used in the mid-fifteenth century. Inclusion of an illustration on a broadside increased its perceived value, especially among the illiterate. To keep costs down, publishers would normally reuse their limited stock of generic woodcuts.

Probable period of publication: 1820-1830 shelfmark: L.C.1268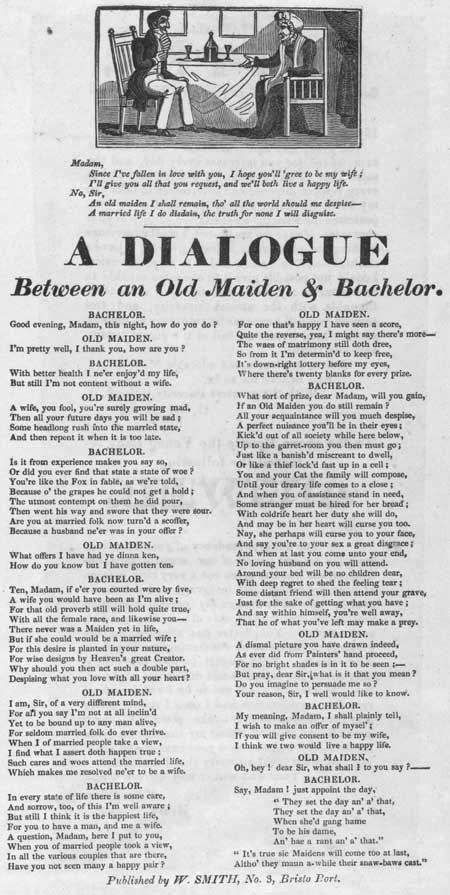 View larger image