Commentary
This broadside story begins: 'An account of a horrible dispute which took place between a Cobler, and his Wife the day after King Crispian's procession; For the Cobler had that day got tipinto his fob the price of heelingand soling a pair of shoes and went into a public house in the Grasmarket and where the wife catched him with an account of what happened.' A note at the foot of the sheet states it was 'PRINTED FOR JOHN CAMERON', whose press was located in Glasgow during the 1820s.
Employing martial terminology to report on a domestic quarrel that allegedly took place between a cobbler and his wife, this gossipy broadside is really a humorous story which has been written to entertain its audience. That said, however, a censorious tone concerning how people should behave lends an element of moral instruction to the tale. The story centres around the seemingly universal theme of a man going to a pub in order to forget all his woes, only to have his leisure time interrupted by an angry wife. The opening reference to King Crispian is probably intended to be a humorous comparison between this pub-frequenting cobbler and Saint Crispin of Soissons (d. 287), who was the patron saint of shoemakers.
Broadsides are single sheets of paper, printed on one side, to be read unfolded. They carried public information such as proclamations as well as ballads and news of the day. Cheaply available, they were sold on the streets by pedlars and chapmen. Broadsides offer a valuable insight into many aspects of the society they were published in, and the National Library of Scotland holds over 250,000 of them.

Probable date published: 1820-1830 shelfmark: L.C.1268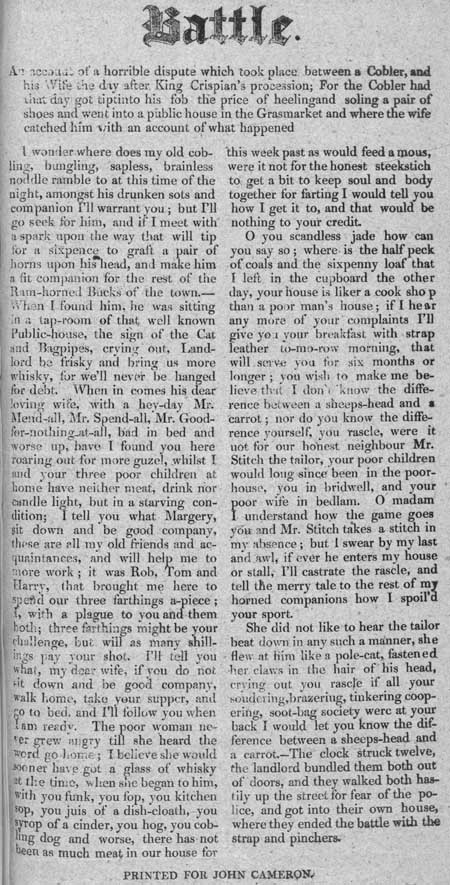 View larger image