Commentary
This poem begins: 'In this fair town not long ago, / As I have heard the story go'. The sheet carries a detailed woodcut depicting an amorous couple in a doorway, being spied upon by a group of gents.
This rather chilling and gruesome tale is very revealing about Victorian relationships and society. The emphasis on marriage and childbearing is explicit here as well as the wife's frustration at her inability to fulfil this role. The husband then seeks a less tense relationship with the maid, which leads to her downfall. It is made clear that this is her fault and she should have resisted the husband's advances. In turn, the wife then claims that she too will have many men, an almost impossible claim to make good at this time.
Any references to the physicalities of the relationship have been left blank, but it does suggest that these topics were talked about by Victorian couples. Pregnancy is also not named in this text. Although having many children was the preferred state of affairs, pregnancy itself was thought to be quite disgusting and pregnant women were not supposed to show themselves in society.

Probable date published: 1830-1850 shelfmark: L.C.1268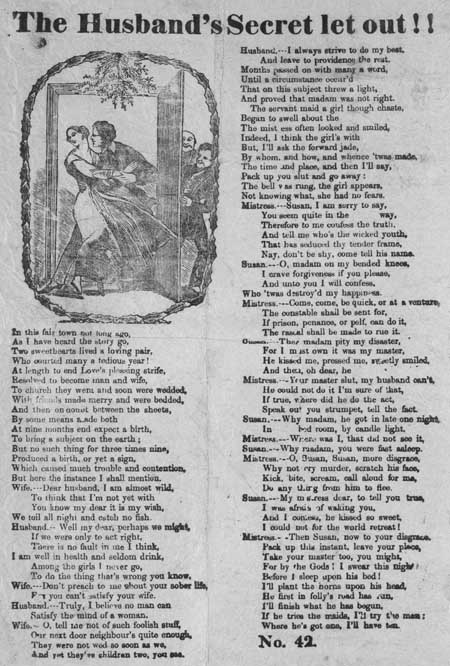 View larger image