Commentary
This sheet begins: 'A Full and Particular Account of the Extravagant Adventures of a young inexperienced Farmer from the Country, on a Wednesday last, who fell in with a Dandy Young Lady, that took him to the famed Battery, in the Canongate'. This sheet would have sold for a penny at the time of publication.
The term battery here, seems to refer to a brothel or house of ill-repute, the 'soldiers' and 'weapons' inside being the inhabitants. This story relates how an innocent and na´ve young man is enticed into carousing and then staying the night with the women of the house, who eventually pick his pockets as he sleeps. The outcome of the story is that he loses his horse, his reputation and contracts a venereal disease.
Broadsides, cheap and accessible, were often used as moral forums with 'lessons of life' included in the narrative. Broadside authors tended to see themselves as moral guardians and teachers in society. As such, publishers often disseminated 'educational' texts outlining the social and personal consequences of undisciplined or immoral behaviour.

Probable date published: 1830- shelfmark: L.C.1268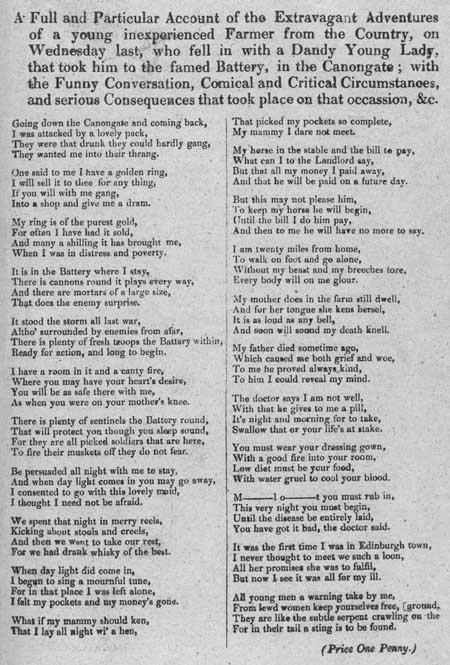 View larger image