Commentary
This account begins: 'A full and particular account of a remarkable and fearful noise and disturbance, that has continued for above three weeks at a Farmer's house at Sourhole, in the parish of Colinton, a few miles south west of Edinburgh.' It was published in Edinburgh by J. Morren, possibly in 1801.
It appears that the noises, which apparently could be heard up to a quarter of a mile away, were investigated by several people, including a number of clergymen. With the suggestion that the disturbance could be supernatural, it is stressed that those involved were 'serious Christians'. Reports of unusual events, including apparitions, noises and strange lights in the sky proved popular reading with the public. There was a fascination, as there is today, with 'the unexplained'.
Broadsides are single sheets of paper, printed on one side, to be read unfolded. They carried public information such as proclamations as well as ballads and news of the day. Cheaply available, they were sold on the streets by pedlars and chapmen. Broadsides offer a valuable insight into many aspects of the society they were published in, and the National Library of Scotland holds over 250,000 of them.

Likely date of publication: 1801 shelfmark: L.C.1268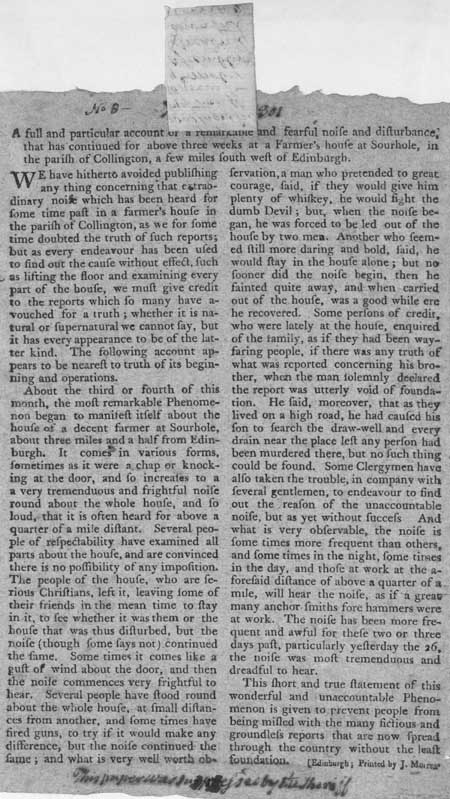 View larger image