Commentary
This ballad begins: 'AN orator was found in Nottinghamshire, / Who for his great Parts was summon'd to appear / At Court, to give the necessary assistance there.' The text preceding the ballad reads: 'An Excellent / New SONG, / BEING / The Intended Speech of a Famous Orator.' It was published in 1711.
Queen Anne (1702-1714) had signed the Act of Settlement in 1701, which angered Scotland as it approved the succession of the House of Hanover and not the original Stuart line. To end the dispute, the Parliaments were unified in 1707. The bickering continued however, with the Tories supporting the Stuarts and the Whigs the Hanoverians. In 1711 the Whig majority could not reach an agreement with the Tories and so Anne was forced into creating peers for political purposes. This not only weakened the royal prerogative but caused a little unrest, as expressed here.
Early ballads were dramatic or humorous narrative songs derived from folk culture that predated printing. Originally perpetuated by word of mouth, many ballads survive because they were recorded on broadsides. Musical notation was rarely printed, as tunes were usually established favourites. The term 'ballad' eventually applied more broadly to any kind of topical or popular verse.

Date of publication: 1711 shelfmark: S.302.b.2(007)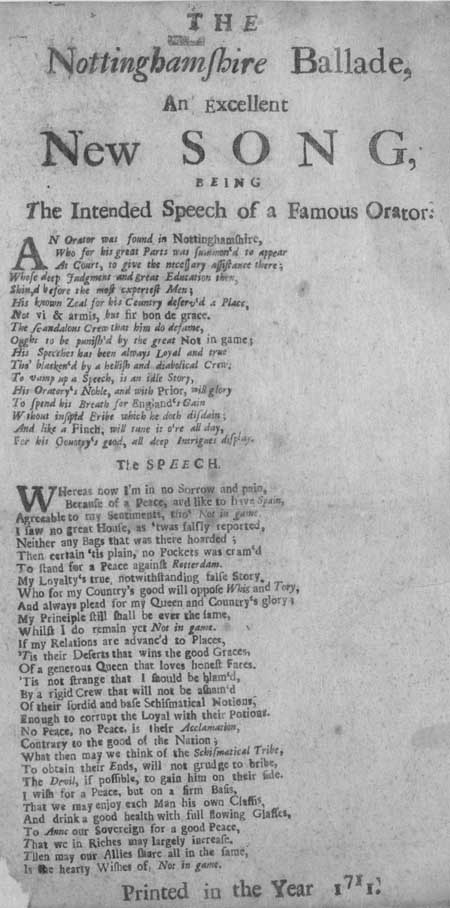 View larger image