Commentary
Verse 1: 'Was never in Scotland heard nor seen / such dancing nor deray, / neither at Falkland on the green, nor Peebles at the play, / As was (of wooers as I ween) / as Christs-Kirk on a day: / for there came Kittie washen clean , / in her new gown of gray / so gay that day.' Beneath the title the text reads: 'Composed (as is supposed) by King JAMES the fifth'.
The immense popularity of 'Christ's Kirk on the Green' in Scotland led to many reprints being made over several centuries. The National Library of Scotland holds several broadside versions of the ballad in its collection, all subtly different in some details of wording or spelling. These differences reflect the tendency of ballad publishers to update spellings or styles to the standards of their era. One reason for the poem's popularity may have been the belief that it was written by King James V, but many modern scholars tend to doubt this attribution, believing the poem to have been written slightly earlier, possibly by James I, who lived from 1394-1437.
Early ballads were dramatic or humorous narrative songs derived from folk culture that predated printing. Originally perpetuated by word of mouth, many ballads survive because they were recorded on broadsides. Musical notation was rarely printed, as tunes were usually established favourites. The term 'ballad' eventually applied more broadly to any kind of topical or popular verse.

Probable date published: 1701- shelfmark: S.302.b.2(005)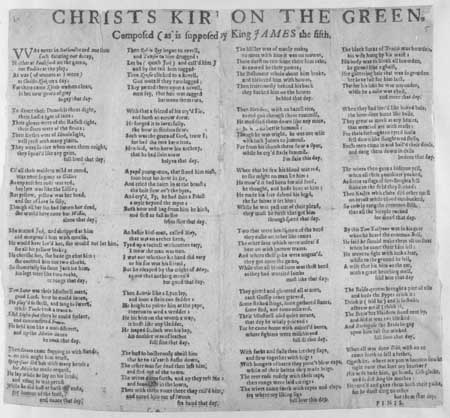 View larger image