Commentary
This story begins: 'Or, A New Way of Raising the Wind. / This story with many others was first introduced and made popular by the late James Livingstone, the best comic Singer and Scotch Story-Teller.' This sheet was published by James Kay of Glasgow. The sheet is one of a series as indicated by the number in the bottom right corner, although this sheet could have been purchased for a penny.
Habbie Simpson was the piper of Kilbarchan, a village west of Paisley, during the late sixteenth century. Robert Sempill of Beltrees, Renfrewshire (c.1595-1659), wrote an eulogy of him, copies of which are also contained in the National Library of Scotland's collection. This reveals that Simpson was brave, good at football, a bit of a gossip and renowned for his humorous behaviour! It also clearly states Simpson's reputation as a piper, which is now celebrated by a statue in the town centre.
Broadsides are single sheets of paper, printed on one side, to be read unfolded. They carried public information such as proclamations as well as ballads and news of the day. Cheaply available, they were sold on the streets by pedlars and chapmen. Broadsides offer a valuable insight into many aspects of the society they were published in, and the National Library of Scotland holds over 250,000 of them.

Probable period of publication: 1840-1850 shelfmark: L.C.1270(019)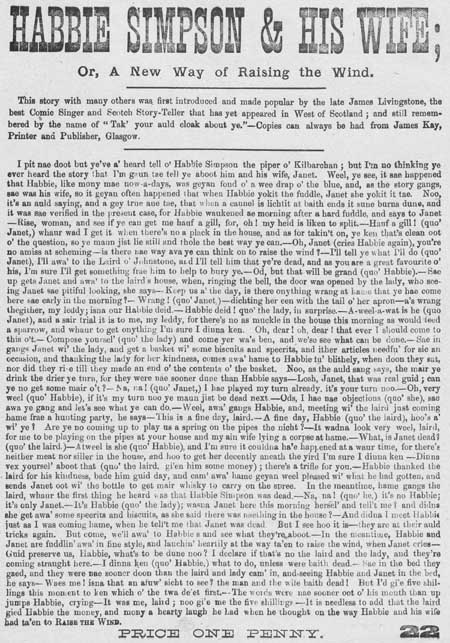 View larger image