Commentary
The first ballad begins: 'Come all you true-born Irishmen wherever ye be, / I pray you give attention, and listen unto me'. This song is given the greatest space and boldest print on the sheet and so must have been given more precedence.
The second ballad, 'Silver Bells', was a Victorian music hall song by Harry Thomas Dale. Dale was born in Birmingham in 1844 and died in Ashington, Northumberland in 1914 aged 70. He wrote over 300 songs for the music hall and performed regularly in Scotland at such venues as the Britannia Music Hall in Glasgow. Later in his career he became a Jester performing with John Henry Cooke's Royal Circus in Edinburgh. The third ballad begins: 'At dreary midnight's cheerless hour, / Deserted e'en by Cynthia's beam'. These two ballads have been given a smaller and divided space, perhaps denoting that they are of lesser importance or value. This sheet was published by James Kay of Glasgow.
Broadsides were sold to large numbers of people who then shared them with even larger audiences. They were a cheap and common form of social entertainment in age without television and radio. Buying a sheet with more than one song on it would have made hard-headed money sense but a sheet with three songs on is relatively unusual!

Probable period of publication: 1870-1900 shelfmark: L.C.1270(017)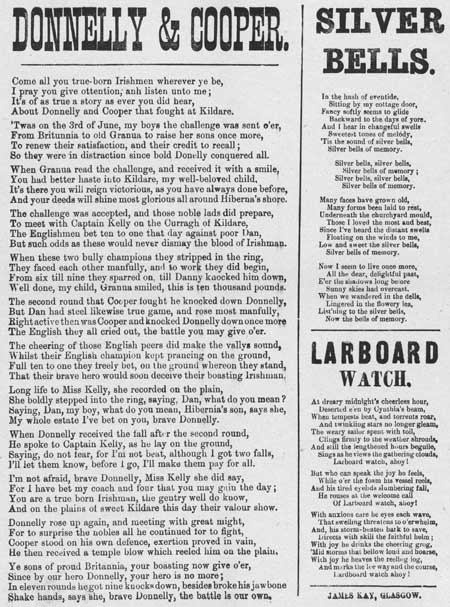 View larger image