Commentary
Verse 1: 'You Catholics all both great and small, / I hope you will draw near, / For very mournful is the news / That I have brought you here; / It's of a dreadful massacre / That has took place near Conpore, / By which four holy clergymen / Were martyred in their gore.' Unfortunately, the name of the printer and date of publication have not been included on this sheet.
This broadside refers to an incident that happened in Bulgaria, probably during the 1870s, involving the brutal murder of four Catholic clergymen. This was a hot political issue throughout Europe - the Bulgarian struggle against their Turkish overlords attracted sympathy. Tales of Turkish atrocities got the 'Great Powers' embroiled in the region. Whilst broadsides generally reported on events that occurred a lot closer to home, the story of the four Catholics murdered in Bulgaria must have sparked interest. The international nature of this broadside would have made it compelling and unusual reading.
Broadsides are single sheets of paper, printed on one side, to be read unfolded. They carried public information such as proclamations as well as ballads and news of the day. Cheaply available, they were sold on the streets by pedlars and chapmen. Broadsides offer a valuable insight into many aspects of the society they were published in, and the National Library of Scotland holds over 250,000 of them.

Probable period of publication: 1870-1879 shelfmark: L.C.1270(014)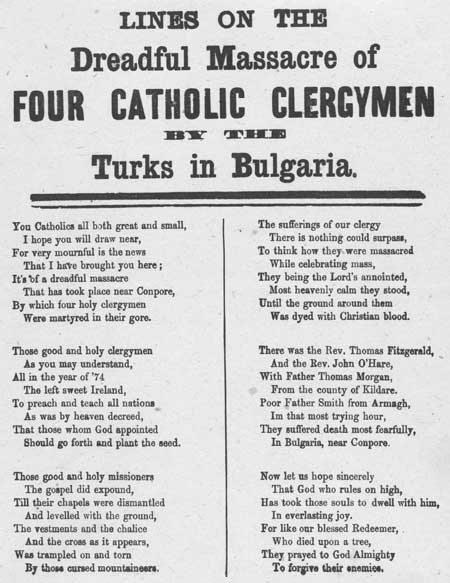 View larger image