Commentary
These ballads begin: 'Proudly the note of the trumpet is sounding, / Loudly the war cries arise on the gale, / Fleetly the steed by Loch Suilig is bounding, / To join the thick squadrons in Saimear's green vale'; 'My name is Jamie Raeburn, / In Glasgow I was born, / My place and habitation / I was forced to leave in scorn.' The broadside was priced at one penny and published by James Kay of Glasgow.
'O'Donnell Abu!' is a song about the wars between Protestant Elizabethan troops and Ireland's native and Catholic clans, led by Hugh O'Donnell, in the 1590s. The tune for O'Donnell Abu was composed in the early part of the 19th century by Joseph Haliday, a man from Carrick-on-Suir, Co. Tipperary. He was bandmaster of the Cavan militia. Michael McCann, a young Galway man, added words to the music. The composition first appeared in 'The Nation' of January, 1843 and was then called 'The Clan Connell War Song'. 'Jamie Raeburn' is a traditional song about a young Glasgow baker reputedly falsely convicted of theft, and transported. The song is still performed today by the Scottish folk group the 'Tannahill Weavers'.
Early ballads were dramatic or humorous narrative songs derived from folk culture that predated printing. Originally perpetuated by word of mouth, many ballads survive because they were recorded on broadsides. Musical notation was rarely printed, as tunes were usually established favourites. The term 'ballad' eventually applied more broadly to any kind of topical or popular verse.

Probable period of publication: 1840-1850 shelfmark: L.C.1270(013)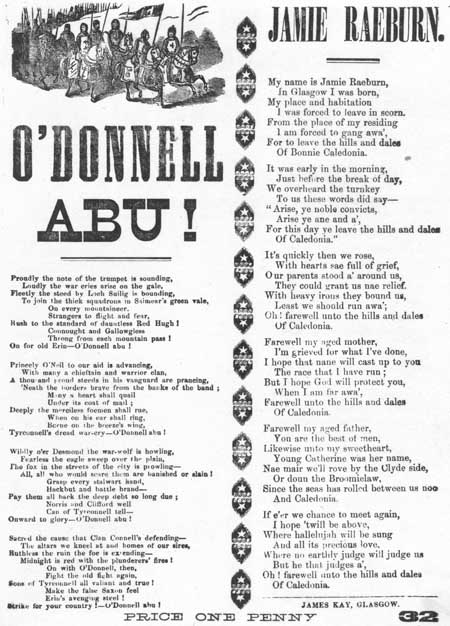 View larger image