Commentary
The first ballad begins: 'Come gather round me brither Scots and listen unto me, / A movement now it is afloat, an honour to Dundee'.
The second ballad begins: 'On Monday night I married a wife, / I thought we'd live happy life.' This sheet carries two illustrative woodcuts depicting Robert Burns and a rustic couple.
The topic of the first song, Burns's (1756-96) statue in Dundee, suggests this sheet was published there, although the topic has a popular appeal and so may not have been confined to Dundee. The statue was unveiled in Dundee in 1880 and was a copy of that commissioned by the city of New York and unveiled only weeks before. The commission was completed by Sir John Robert Steell (1804-91), who based his casting on Alexander Nasmyth's (1758-1840) portrait of 1787. As a result the likeness is believed to be quite accurate and conforms with the public image of Burns.

Probable date published: 1880 shelfmark: L.C.1270(012)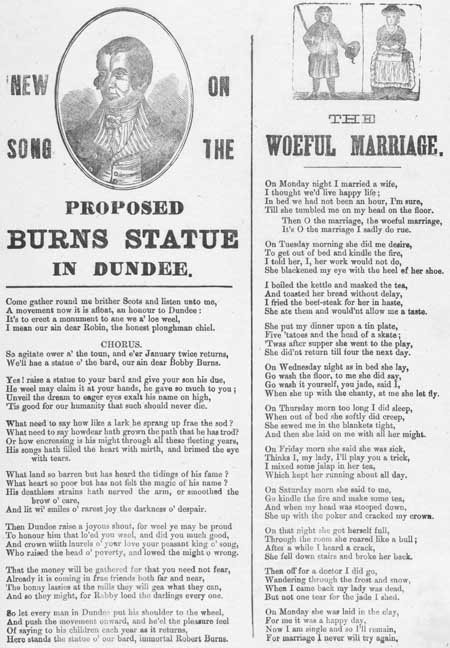 View larger image