Commentary
This ballad begins: 'Says Mrs. Doyle to Mrs. Grant, / You'd better clean the stairs! / Ye've missed yer turn for mony a week, / The neighbours a' did theirs!' This sheet was published by James Kay in Glasgow and could have been purchased for a penny.
Tenements were brokered as the solution to overcrowded housing in heavily industrialised areas such as Glasgow, during the early-nineteenth century. Tenements consisted of a square block of flats built facing the front street, but enclosing a shared green at the back. The communal staircase for each side of the building was often a source of tension, as its cleanliness was a source of pride for the the block but required co-operation to maintain. This tension is explored and revealed in detail in this text.
Early ballads were dramatic or humorous narrative songs derived from folk culture that predated printing. Originally perpetuated by word of mouth, many ballads survive because they were recorded on broadsides. Musical notation was rarely printed, as tunes were usually established favourites. The term 'ballad' eventually applied more broadly to any kind of topical or popular verse.

Probable period of publication: 1840-1850 shelfmark: L.C.1270(011)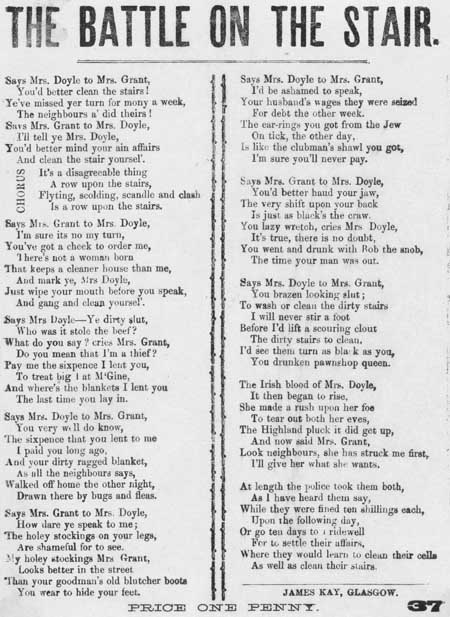 View larger image