Commentary
This broadside contains two separate ballads. The opening line of the first ballad reads: 'Bonnie May to the ewe buchts is gane'. A 'ewe bucht' is a sheep pen. The opening line of the second ballad reads: 'Long life and good health for bold Parnell and Biggar'. A note below the title of the second ballad states that it should be sung to the tune of 'The Priest and his Boots'.
This broadside contains an incongruous mix of ballads. The first is dedicated to celebrating the breathtaking beauty of a Scottish country lass, who is represented as being completely in tune with nature. The second ballad, however, is a political song supporting Home Rule for Ireland and, as such, eulogises the leader of the Home Rule Movement, Charles Stewart Parnell (1846-91), and his predecessor, Joseph Biggar. This second ballad would most likely have been published some time between 1880 (the year Parnell was elected leader of the Irish Party) and 1891.
Broadsides are single sheets of paper, printed on one side, to be read unfolded. They carried public information such as proclamations as well as ballads and news of the day. Cheaply available, they were sold on the streets by pedlars and chapmen. Broadsides offer a valuable insight into many aspects of the society they were published in, and the National Library of Scotland holds over 250,000 of them.

Probable period of publication: 1840-1850 shelfmark: L.C.1270(004)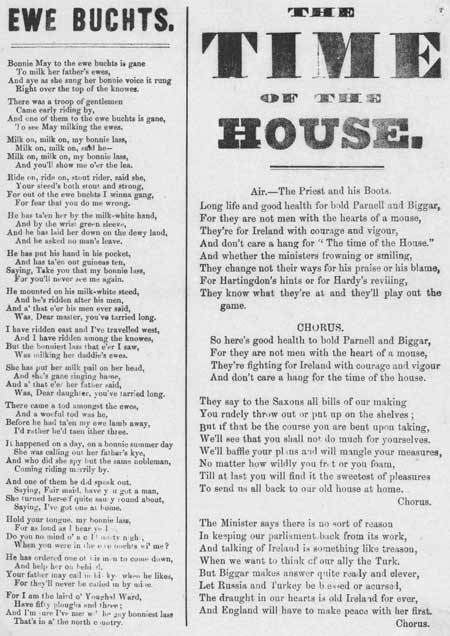 View larger image