Transcription
THE BLACKBIRD
Upon a fair morning for soft recreation,
I heard a fair lady was making her moan,
With sighing and sobbing and sad lamentation,
Saying, my blackbird most royal is flown,
My thoughts they deceive me,
Reflections do grieve me,
And I am o'erburthened with sad misery;
Yet if death should blind me,
As true love inclines me,
My blackbird I'll seek out wherever you may be.
Once in fair England my blackbird did flourish,
He was the chief blackbird that in it did spring,
Prime ladies of honour his person did nourish,
Because he was the true son of a king;
But since that false fortune,
Which still is uncertain,
Has caused this parting between him and me,
His name I'll advance,
In Spain and in France,
And I'll seek out my blackbird wherever he be.
The birds of the forest all meet together,
The turtle has chosen to dwell with the dove,
And I am resolved, in foul or fair weather,
Once in the spring to seek out my true love,
He's all my henrt' treasure,
My joy, love, and pleasure,
And (justly my Love) my heart follows thee,
Who art constant and kind,
And courageous of mind,
All bliss to my blackbird where'er he may be.
In England my blackbird and I were together,
Where he was still noble and generous of heart,
And woe to the tirae that he went thither,
Alas! he was forced from thence to depart,
In Scotland he's deem'd,
And highly esteem'd,
In England he seemeth a stranger to be,
Yet his fame shall remain,
In France and in Spain,
All bliss to my blackbird where'er he may be.
What if a fowler my blackbird has taken,
Then sighing and sobbing will be all my tune,
But if he is safe I will not be mistaken,
And hope yet to see him in May or in June,
For him through the fire,
Through mud and through mire,
I will go for I love him to such a degree,
Who is constant and kind,
And noble in mind,
Deserving all blessings wherever he be.
Tis not the ocean can fright me with danger,
Nor though like a pilgrim I wander forlorn,
I may meet with friendship in one that's a stranger,
Much more than of one that in Britain is born,
I pray heaven so spacious,
To Britain be gracious,
And some their odious to him and to me,
Yet joy and renown,
And laurel shall crown,
The blackbird with honour wherever he be.
JAMES KAY, GLASGOW.
MY NAME IS
DUNCAN CAMPBELL
My name's Duncan Campbell, from the shire of Argyle,
I have travelled this country for many a lono- mile ;
I have travelled through England, and Ireland, and a
And the name I go by is bold Erin-go-bragh
One night in Auld Reekie, as I walked down the street,
A saucy policeman I chanced for to meet.
He glower'd in my face and gave me some jaw,
Saying, when did you come over from Erin-go-bragh?
I am not a Paddy, though Ireland I've seen,
Nor am I a Paddy, though in Ireland I've been,
But though I were a Paddy, what is it to you '
There's many a brave hero from Erin-go-bragh.
I knew you're a Paddy by the cat of your hair,
But you all turn Scotchmen as soon as you come here,
You've left your own country for breaking the law,
We are seizing all strangers from Erin-go-bragh.
Well, though I were a Paddy, and you knew it were true,
Bat were I the devil, pray what's that to you?
If it were not for your baton that you hold in your paw,
I would show you a game played in Erin-go-bragh.
There is a switch of a black thorn I hold in my fist,
Across his big body I made it to twist;
And the blood from his napper I quickly did draw,
Aud I paid him stock and interest for Erin-go-bragh.
The people came round me like a slock of wild geese,
Saying, stop that that big rascal, he has kill' d our police,
And for one friend I had, I'-m sure he had twa,
It was very hard times for poor Erin-go-bragh.
But I came to a wee bont that sails in the Forth,
I packed up my awl, and siled for the North;
Farewell to Auld Reekie, and police and a',
May the devil go with you, says Erin-got bragh.
Come all you brave fellows that hear of this song,
I don't care a farthing to where I belong,
For I'm from Argyleshire in the Highlands so braw,
But I ne'er took it ill when called Erin-go-bragh.

Probable period of publication: 1840-1850 shelfmark: L.C.1270(003)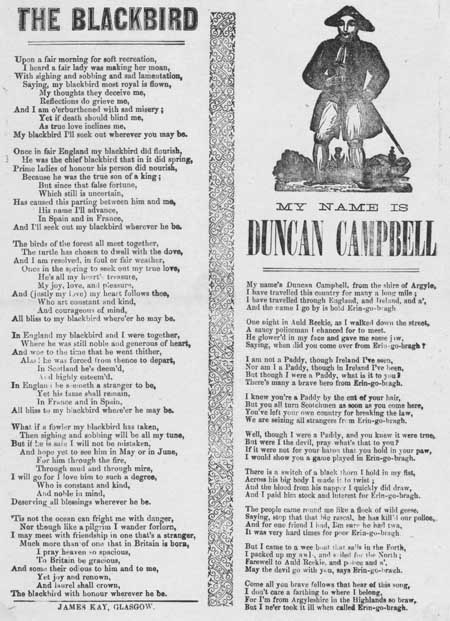 View larger image