Commentary
As this broadside contains two separate ballads, the chapmen would have sold the sheet as a special offer of two for the price of one. The opening line of the first ballad reads: 'O whar hae you been a' day, creeshie soutar Johnnie'. The opening line of the second ballad reads: 'All in the Downs the fleet was moor'd'. 'Cresshie' means 'greasy'.
The first ballad on this broadside is a drinking song. However, this drinking song contains a moral message, since the lyrics instruct 'soutar Johnnie' that he should be looking after his hungry children instead of spending his money on alcohol. The second ballad tells of a tearful young woman called Susan, who boards a British warship in search of her departing sweetheart, a sailor named William. As the ship is about to sail, William must quickly convince Susan of his love for her. He imaginatively achieves this aim by employing a number of poetic images in a poignantly romantic manner.
Early ballads were dramatic or humorous narrative songs derived from folk culture that predated printing. Originally perpetuated by word of mouth, many ballads survive because they were recorded on broadsides. Musical notation was rarely printed, as tunes were usually established favourites. The term 'ballad' eventually applied more broadly to any kind of topical or popular verse.

Probable period of publication: 1840-1850 shelfmark: L.C.1270(002)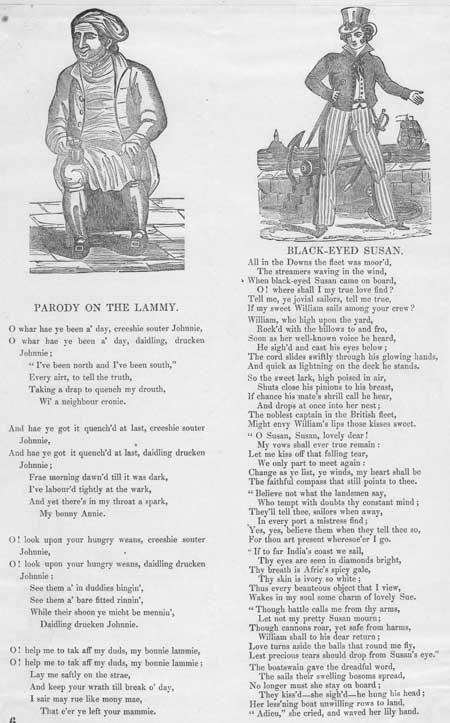 View larger image