Commentary
This ballad is comprised of two parts. The opening line of the first part reads: 'ALL ye who do desire to write'. In the second part of the ballad, the opening line is: 'Nature hath strain'd her utmost skill'. Below the title, there is a note stating that the ballad should be sung to a tune called 'My Love's a handsome shoe-maker'. This sheet was printed by John Reid of Pearson Cross, Edinburgh, in 1720.
The first part of this ballad is extremely erudite, at is provides its audience with an epic pageant of female characters who are renowned for their beauty. The awe-struck narrator continues to employ famous female characters from history, myth and literature as he struggles to do justice to his beloved's beauty. After invoking all these goddesses and spirits, he then states that his treasure is well known throughout Inveraray. Part two of the ballad provides its audience with a detailed description of his dearly beloved, using many images from nature to convey an impression of her comeliness and innocence.
Early ballads were dramatic or humorous narrative songs derived from folk culture that predated printing. Originally perpetuated by word of mouth, many ballads survive because they were recorded on broadsides. Musical notation was rarely printed, as tunes were usually established favourites. The term 'ballad' eventually applied more broadly to any kind of topical or popular verse.

Date of publication: 1720 shelfmark: Ry.III.a.10(119)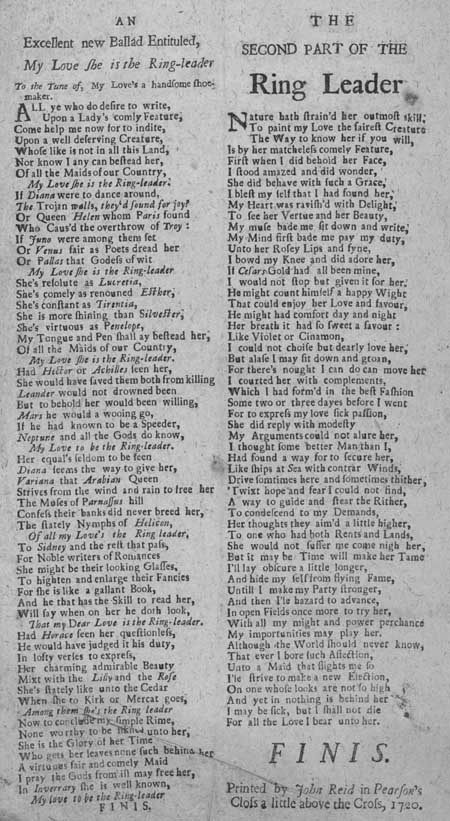 View larger image