Commentary
Verse 1: 'The Nymph. / Loves fairest Youth, in blooming May, / stood Musing by a River Side, / Where the Bright Goddess of the Day, / Had deck'd the Plain in Glorious Pride: / Then Laurels green crown'd bonny Jean, / And secret Flames bred Constancy; / Almighty Jove soon from above, / Fix'd Love's sweet Passions in her Eye.' This broadside was published by John Reid of Pearson's Close in Edinburgh, in 1719.
'The New Way of Bonny Jean' is a ballad whose events and meaning are shrouded in classical allusion and metaphor. The verses seem to chart the seduction of a young girl, Jean. At the start, Jean is depicted in an Edenic situation by a river, clad in laurel and at one with nature. After being pierced with Cupid's arrow, however, 'She leaves the Grove to follow Love'. The final verse implies that Jean has suffered a fall from grace, and now inhabits a place 'where soft perfuming flames do burn'.
Early ballads were dramatic or humorous narrative songs derived from folk culture that predated printing. Originally perpetuated by word of mouth, many ballads survive because they were recorded on broadsides. Musical notation was rarely printed, as tunes were usually established favourites. The term 'ballad' eventually applied more broadly to any kind of topical or popular verse.

Date of publication: 1719 shelfmark: Ry.III.a.10(118)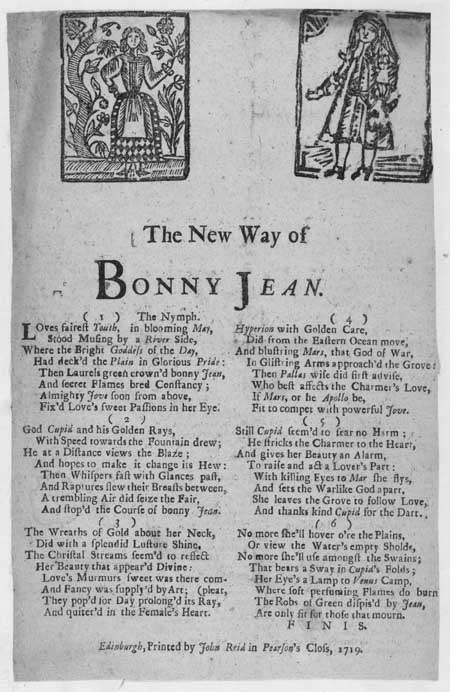 View larger image