Commentary
This broadside begins: 'ELEGY ON LUCKY WOOD.' The elegy begins: 'O CANNIGATE poor Ellritch hole / What Loss what Crosses does thou thole? / London and Death garrs thee look droll / and hing thy head; / Wow but thou has e'ne a cald Coal / to Blaw indeed.' An epitaph has also been included at the bottom of this sheet.
It is believed this elegy was written by the Scottish-born poet and song collector Allan Ramsay (1685-1758). The subject of the elegy, Lucky Wood, is thought to have been the landlady of an alehouse in Edinburgh's Canongate. Although many of the elegies published as broadsides remembered prominent figures such as King William III and Robert Walpole, a large number also mourned the passing of local characters such as Lucky, a brothel-keeper.
Broadsides are single sheets of paper, printed on one side, to be read unfolded. They carried public information such as proclamations as well as ballads and news of the day. Cheaply available, they were sold on the streets by pedlars and chapmen. Broadsides offer a valuable insight into many aspects of the society they were published in, and the National Library of Scotland holds over 250,000 of them.

Probable date published: 1718- shelfmark: Ry.III.a.10(112)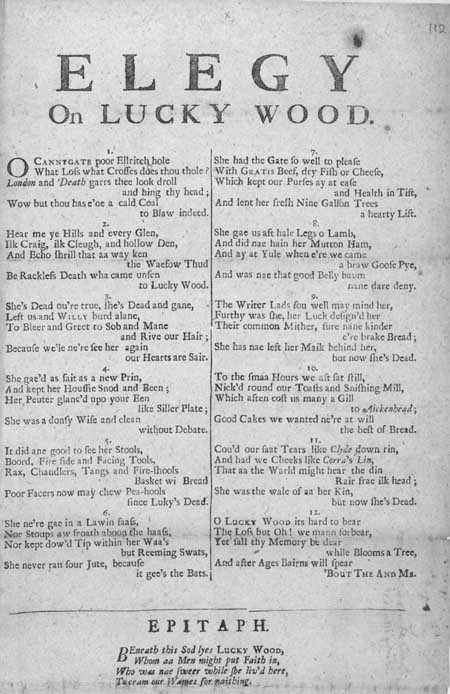 View larger image