Commentary
This memorial notice begins: 'An Elegy On the never to be lamented death of Mirs. M'Leod, who was Execute on Wednesday the 8th of March, 1727.' The elegy itself begins: 'O Curs'd Atropus, thou cancard Wife, / I wonder what aild thee to draw thy knife'. Unfortunately, the name of the publisher is not included.
This song of mourning is dedicated to the memory of Mrs McLeod, who was executed in Edinburgh in 1727, for the crime of counterfeiting. Although written in a fairly elevated and erudite tone with some classical allusions, the ballad is very much a character assassination of poor Mrs McLeod. The last few verses of the ballad focuses on the interaction that occurred on the scaffold between Mrs McLeod and the hangman, Doctor John Dalgeish. Many broadsides such as this one are held in the National Library of Scotland's collection.
Early ballads were dramatic or humorous narrative songs derived from folk culture that predated printing. Originally perpetuated by word of mouth, many ballads survive because they were recorded on broadsides. Musical notation was rarely printed, as tunes were usually established favourites. The term 'ballad' eventually applied more broadly to any kind of topical or popular verse.

Date of publication: 1727 shelfmark: Ry.III.a.10(110)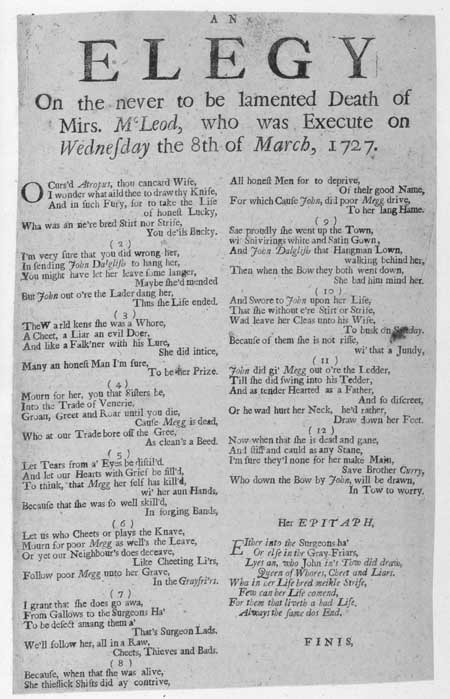 View larger image