Commentary
Verse 1: 'M'Leod you vild Adulterous Jad, / Think you my Service is so Bad, / That ye think shame to ca' me Master / You filthy Drunken Warld's Waster, / Mrs. Ye're come to be a Patien / To the best Doctor in this Nation, / And is that you his name would kno' / Into this Town he?s Lord Provo, / So Mrs. tell me your Disease / And in short Time I will you ease.' The name of the publisher is not included.
Although this broadside looks as if it contains humorous verses spoken by a Doctor John Dalgeish and his patient, Mrs McLeod, the doctor in question is in fact a hangman. Mrs McLeod was executed in Edinburgh in 1727 for the crime of forgery, and John Dalgeish was a well-known hangman. People reading and hearing the broadside then would have been aware of this fact, and would have enjoyed the jesting tone and conceit of this piece. As the insults increase in number and severity, the final verse reaches its climax when Doctor Dalgeish tells Mrs McLeod that she will soon be swinging on the scaffold.
Early ballads were dramatic or humorous narrative songs derived from folk culture that predated printing. Originally perpetuated by word of mouth, many ballads survive because they were recorded on broadsides. Musical notation was rarely printed, as tunes were usually established favourites. The term 'ballad' eventually applied more broadly to any kind of topical or popular verse.

Date of publication: 1727 shelfmark: Ry.III.a.10(106)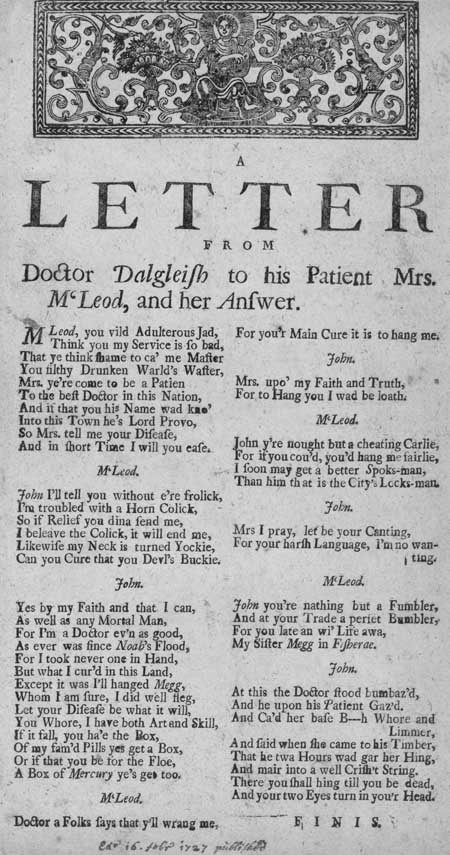 View larger image