Commentary
This broadside ballad begins: 'The last Speech and Confession of Jannet Riddle, who was Execute, for murthering her own Child, in the Grass Market of Edinburgh, January 21st. 1702.' The name of the publisher is not included.
Written entirely in verse form and from a first person viewpoint, this broadside claims to be the last speech and confession of Jannet Riddle, who was executed in 1702 for killing her own child - the sex of which is not identified. Given the low level of literacy at this time, it is highly unlikely that Jannet Riddle actually wrote this ballad. It was probably written by a professional broadside writer who knew that sheets reporting crime sold numerous copies. After detailing the bloody act, the ballad goes on to confess the crime and begs the Lord for mercy.
Early ballads were dramatic or humorous narrative songs derived from folk culture that predated printing. Originally perpetuated by word of mouth, many ballads survive because they were recorded on broadsides. Musical notation was rarely printed, as tunes were usually established favourites. The term 'ballad' eventually applied more broadly to any kind of topical or popular verse.

Date of publication: 1702 shelfmark: Ry.III.a.10(103)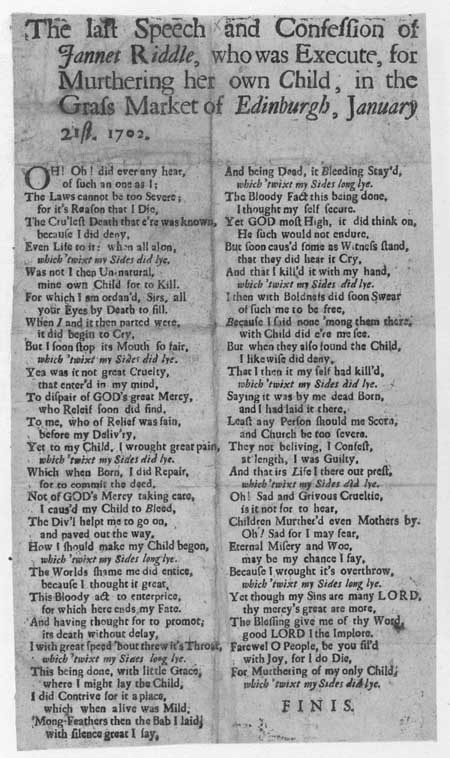 View larger image