Commentary
This broadside begins: 'The British Birds of late call'd over, / A Grand Fowl bred up at H-----r, / Exalted him to great Renown, / Deck'd with a rich Imperial Crown; / He swore he would maintain their Cause, / Religion, Liberties and Laws'. 'H-----r' should be taken to be 'Hanover'. Directly under the title it reads: 'Peers, Gentlemen, give Audience, To Fable ta'en from Common Sense'.
Robert the Raven is a pseudonym for the English whig statesman Sir Robert Walpole, 1st Earl of Oxford (1676-1745), who is generally considered to be the first prime minister of Great Britain. He presided over the Governments of George I and George II, and wielded a tremendous amount of power and influence. Considered by many to be a corrupt and calculating man, many of the allegations included in this broadside appear to have been true. Finally, 'A Grand fowl bred up at H-----r', refers to King George I, the first Hanoverian king of Great Britain, who was famously disinterested in British affairs and left the running of the country to his ministers.
Broadsides are single sheets of paper, printed on one side, to be read unfolded. They carried public information such as proclamations as well as ballads and news of the day. Cheaply available, they were sold on the streets by pedlars and chapmen. Broadsides offer a valuable insight into many aspects of the society they were published in, and the National Library of Scotland holds over 250,000 of them.

Probable date published: 1742- shelfmark: Ry.III.a.10(101)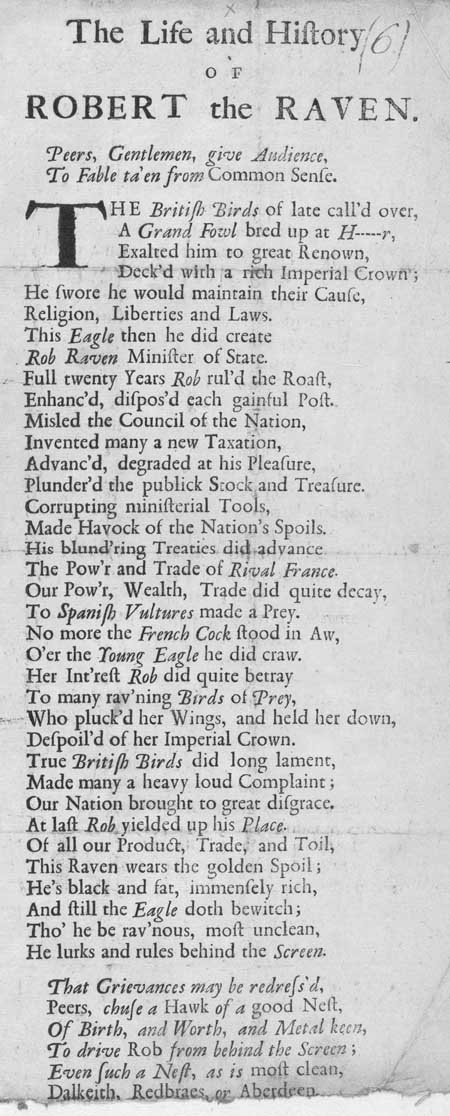 View larger image