Commentary
This lecture begins: 'SATAN, to ruin Mankind in the Root, / The universal Queen, betray'd with Fruit; / A single Apple forfeits Adam's Crown; / The Curse of GOD went with the Apple down.' A handwritten note under the title reads: 'said to be Pennicook Aug. 1726'.
The handwritten note is most likely referring to the Scottish writer, Alexander Pennecuik (d. 1730), who is not to be confused with his uncle, Dr Alexander Pennecuik (1652-1722). Dr Pennicuik was also known for his verse and, in particular, his wit. This poem deals in a light-hearted way with the outmoded belief that all women are somehow tainted by the misdeeds of Eve. It is suggested that contemporary women have substituted the 'forbidden apple' with the demon drink, in this case tea! What then follows is a list of perceived evils attributed to the drinking of tea. Although playful in tone, this poem inadvertently highlights the negative and highly prejudicial attitudes towards women in eighteenth-century society.
Broadsides are single sheets of paper, printed on one side, to be read unfolded. They carried public information such as proclamations as well as ballads and news of the day. Cheaply available, they were sold on the streets by pedlars and chapmen. Broadsides offer a valuable insight into many aspects of the society they were published in, and the National Library of Scotland holds over 250,000 of them.

Probable date published: 1726 shelfmark: Ry.III.a.10(094)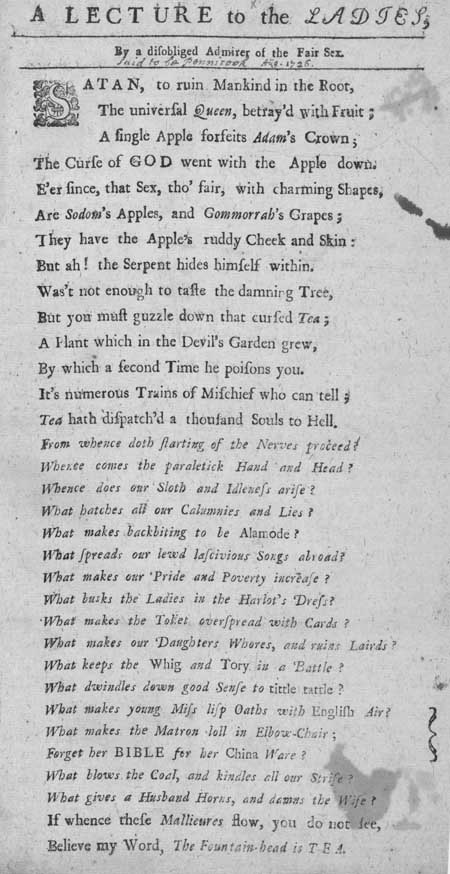 View larger image