Commentary
This broadside begins: 'A Poem Upon the most potent Prince James D[uk]e of Hamilton; anent the Union, of Great Britain.' The first verse reads: 'ALL You Brave Noble Men give Ear, / A Declaration You shall hear, / Of a Brave Noble Man of Fame, / His Stile it is Duke Hamiltoun.' Written in ink at the bottom of the sheet is 'Edinburgh 1707': the year the Act of Union was signed.
This poem is referring to James Hamilton or Douglas, 4th Duke of Hamilton (1658-1712), who succeeded to the title after his mother, Ann, Duchess of Hamilton, stood down in 1698. He is best remembered for his opposition to the union of the parliaments and for representing the Jacobites in the Scottish Parliament. His critics, of which there are many, believe that his inaction and indecisiveness greatly damaged the Jacobite cause.
Broadsides are single sheets of paper, printed on one side, to be read unfolded. They carried public information such as proclamations as well as ballads and news of the day. Cheaply available, they were sold on the streets by pedlars and chapmen. Broadsides offer a valuable insight into many aspects of the society they were published in, and the National Library of Scotland holds over 250,000 of them.

Probable date published: 1707 shelfmark: Ry.III.a.10(088)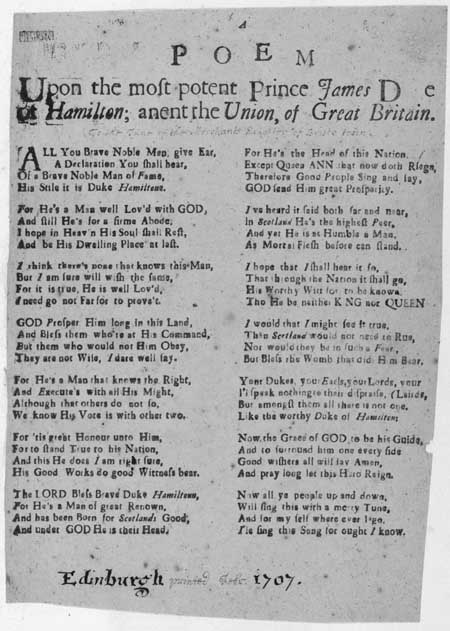 View larger image