Commentary
This execution notice continues: 'Of Mr John Andouin, who was executed at Dublin, on Wednesday the 29th of May last 1728. for the Murder of his Maid Margaret Kief; at the place of execution he delivered the following Paper to the Sheriffs.' The speech is 'signed' by John Andouin and was reprinted in Edinburgh in 1728.
There are no further details available on Andouin's crime or his life, but this is not unusual as eighteenth-century execution notices were not published as entertainment but rather as a warning about imperilling your immortal soul. It is curious to note that the text of this sheet is addressed to the crowd, suggesting that the seller or patterer would have moved among the spectators as the action was unfolding.
Capital punishment has become a hotly debated issue during the twentieth century and no doubt will continue to be so. It is, however, interesting to note that certain precautions are taken here. The convict forgives his accusers and judges for the part they played in his death. He also claims that his death, whether for the crime or not, is justified because he is a sinner.

Date of publication: 1728 shelfmark: RB.I.106(121)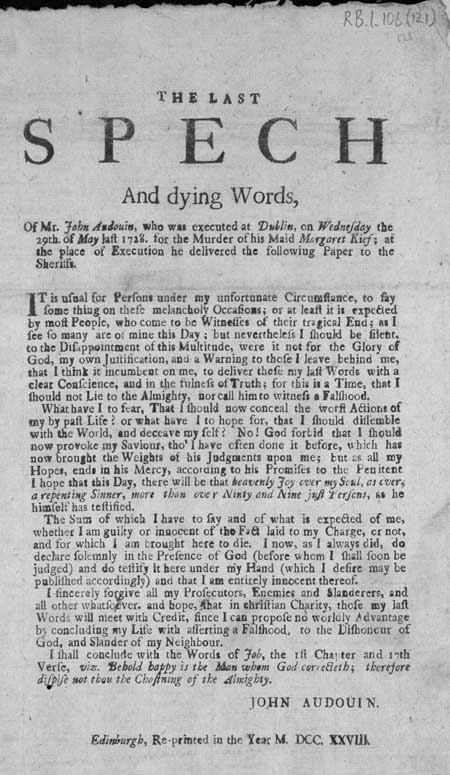 View larger image