Commentary
This broadside begins: 'The last Speech and Dying Words of James Thomson Tincklar. Who was Executed for the Murder of Helen Currie, upon the 2d of Aprile, in the Year 1719. At Adincraw, in the Shire of Berwick.' Tincklar's speech begins: ' I AM brought here this Day to suffer, for the horrid and and Unnatural Murder of my fellow Creature.' There is an old Scots word 'tinclarian' meaning 'tinker-like', so 'Tincklar' in this context may be an alternative Scots word for 'tinker'.
Often the 'Last Speeches' published as broadsides were formulaic expressions of repentance that were probably written by anonymous authors and had little input from the condemned person. In this case, however, very specific details of James Thomson Tincklar's life are included, as is a graphic and disturbing description of the crime of which he was convicted. This suggests that while Tincklar may not have committed the speech to paper himself, it is likely he dictated most of the details to a scribe. Tincklar blames his crime on his wife's wicked influence. Such misogynistic defences were commonplace in criminal trials of the eighteenth and nineteenth centuries.
Reports recounting dark and salacious deeds were popular with the public, and, like today's sensationalist tabloids, sold in large numbers. Crimes could generate sequences of sheets covering descriptive accounts, court proceedings, last words, lamentations and executions as they occurred. As competition was fierce, immediacy was paramount, and these occasions provided an opportunity for printers and patterers to maximise sales.

Date of publication: 1719 shelfmark: RB.I.106(115)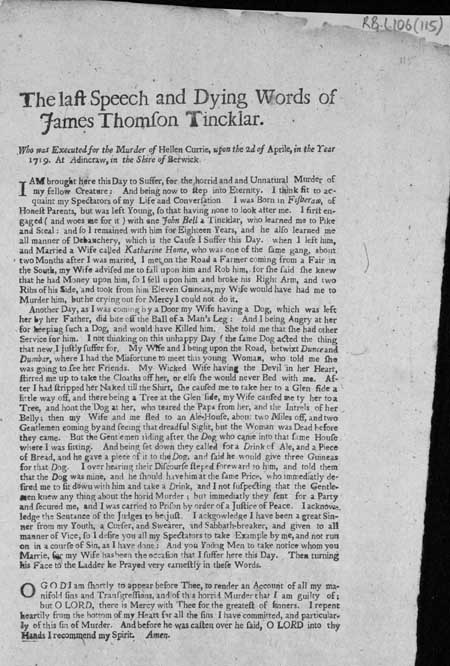 View larger image