Commentary
This lamentation begins: 'SOme Boutcher's Wives got in a fine Soup. / Wi turning of the Chapen Stoup, / Clashing wi Drunken Bessie Shaw, / The fouest Coarse among thnm a'. The sheet is undated and there are no publication details given.
This broadside lampoons the butchers' wives of Mussleburgh, who were apparently very upset because of a new law which meant that meat was to be bought by weight, making it easier for the customer to cheat. Previously it is to be assumed that it was sold according to the type of cut. The women are portrayed as a drunken lot, and the main thing they are worried about is that the new law is losing them drinking money!
Early ballads were dramatic or humorous narrative songs derived from folk culture that predated printing. Originally perpetuated by word of mouth, many ballads survive because they were recorded on broadsides. Musical notation was rarely printed, as tunes were usually established favourites. The term 'ballad' eventually applied more broadly to any kind of topical or popular verse.

Probable date published: 1720- shelfmark: Ry.III.c.36(145)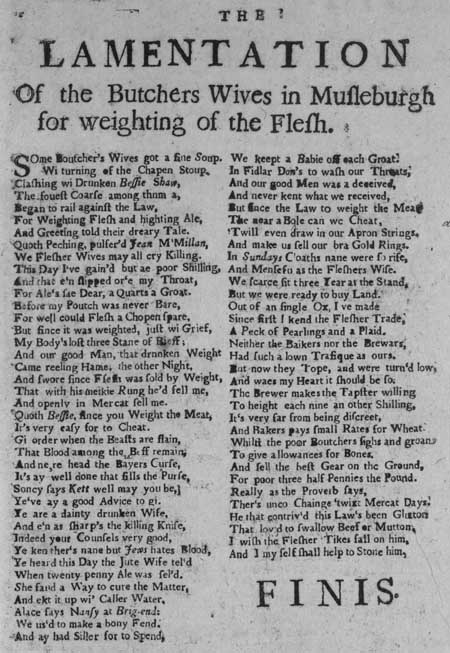 View larger image