Commentary
This piece begins: 'I HEAR a Horse Race lately Run, / Was into Leith where no Man wan / Untill a Highland Ladie / Came up foremost with a Bay Brown, / Which all thought was a Jad'. No publication details have been given.
This well-composed short poem, probably from the early part of the eighteenth century, describes a horse race which took place in Leith, near Edinburgh. Some of the people involved are named; 'Jedburgh' and ''Squair Lyle', but it is the 'Highland Ladie' and his horse who are eulogised. The author takes great delight in pointing out that the arrogant Yorkshireman's gray horse was not as good as it was made out to be and the 'home grown' (and modest) Scots horse and rider won.
Broadsides are single sheets of paper, printed on one side, to be read unfolded. They carried public information such as proclamations as well as ballads and news of the day. Cheaply available, they were sold on the streets by pedlars and chapmen. Broadsides offer a valuable insight into many aspects of the society they were published in, and the National Library of Scotland holds over 250,000 of them.

Probable date published: 1720 shelfmark: Ry.III.c.36(142)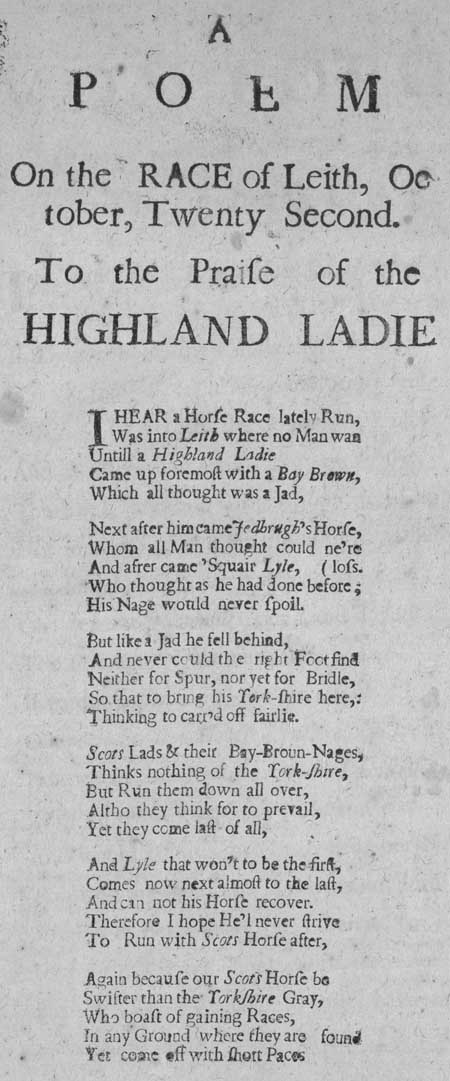 View larger image