Commentary
This poem begins: 'Upon the Twenty eight of January, Assembl'd our honest folk to breed a Plea / With King George's Forces, / Who would not let them be.' The sheet was printed in Edinburgh in 1720. Although a list of those killed or wounded is promised, none appears on this sheet.
This ballad tells of an uprising which took place on 28th January, 1720, by the tenants of Dysart, against their local landowner, or laird, Pitcairn. It is the women who are most praised in the piece: 'the Valiant Wives of Dyesart, / They ought to be Esteem'd', / They hasted fast down into the Shoar, / Our VICTAL to Redeem.' Dysart is in Fife, near Kirkcaldy.
Broadsides are single sheets of paper, printed on one side, to be read unfolded. They carried public information such as proclamations as well as ballads and news of the day. Cheaply available, they were sold on the streets by pedlars and chapmen. Broadsides offer a valuable insight into many aspects of the society they were published in, and the National Library of Scotland holds over 250,000 of them.

Date of publication: 1720 shelfmark: Ry.III.c.36(141)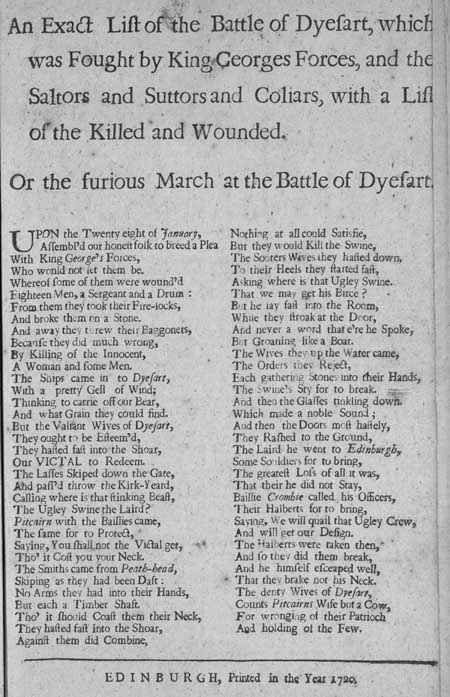 View larger image