Commentary
This poem begins: 'Provok'd at length by such inhumane Spite, / Such sordid Stuff, we're now compell'd to write; / And who'd contain, when some so void of Sense, / Attempt to ridicule that sacred Fence'.
This piece is replying to satirical broadsides such as 'A New Proclamation Concerning Farthingles, or Old Mr Fashoner Shiting Hopt-piticoats', which is also in the National Library of Scotland's collection. Hooped petticoats became fashionable early in the eighteenth century and it is likely that this sheet dates from around that time. The author cleverly turns the argument around by pointing out how the men's fashion is hardly any better, with ''wigs of such an antique Size' and 'Hats that seem design'd for Hercules'!
Early ballads were dramatic or humorous narrative songs derived from folk culture that predated printing. Originally perpetuated by word of mouth, many ballads survive because they were recorded on broadsides. Musical notation was rarely printed, as tunes were usually established favourites. The term 'ballad' eventually applied more broadly to any kind of topical or popular verse.

Probable period of publication: 1720- shelfmark: Ry.III.c.36(139)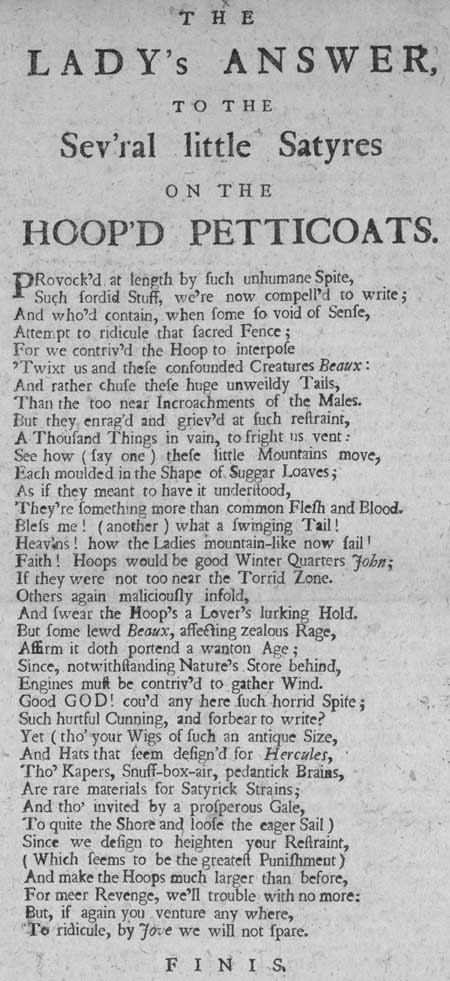 View larger image