Commentary
Following on from the title there is a paragraph in which the 'ladies' express their gratitude to fashion, personified as Mr Fashoner (Fashioner). They say '. . . we cannot but acknowledge your kindness . . . These Hopt Petticoats is a very fine invention . . . They are very Airy and ads to our shaps.' Mr Fashioner replies that he can scarce 'shite them out', meaning he can hardly make enough of them. The first line of the poem underneath runs, 'All the inventions that ever was known'. Above the poem is a woodcut print representing the devil producing hooped petticoats.
Hooped petticoats, or farthingles, became popular in the early eighteenth century. The author of this satire takes a very dim view of them, basically calling them the devil's work. Another broadside, entitled 'The Lady's Answer, to the Sev'ral Little Satyres on the Hoop'd Petticoats' explains why the ladies like their farthingles so much, they'd 'rather chuse these huge unwieldy Tails, / Than the too near Incroachments of the Males'!
Early ballads were dramatic or humorous narrative songs derived from folk culture that predated printing. Originally perpetuated by word of mouth, many ballads survive because they were recorded on broadsides. Musical notation was rarely printed, as tunes were usually established favourites. The term 'ballad' eventually applied more broadly to any kind of topical or popular verse.

Probable date published: 1720- shelfmark: Ry.III.c.36(138)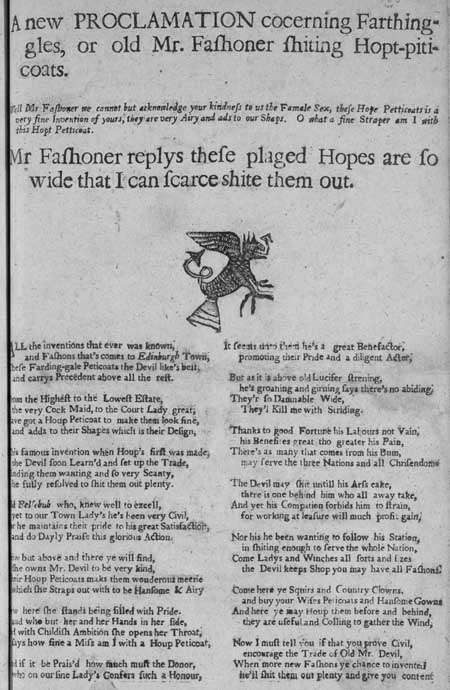 View larger image