Commentary
This poem begins: 'HAIL Miracle of Monarchs who resigns, / Thy Crown, thy Kingdoms, and thy Golden Mines, / Mocking the royal Pageantry of State, / Ambitions rather to be good, than great'. No date or publication details are given, although the National Library of Scotland's online catalogue has Alexander Pennicuik as the author.
This is a satirical poem on Philip V, Philip Anjou, King of Spain (1683-1746), who at the time (mid-1720s) was pursuing a reconciliation with Charles VI, Holy Roman emperor (r. 1711-40), in an anti-French alliance which would raise Jacobite hopes of an invasion of Great Britain. The poet, Alexander Pennecuik (1652-1722), was prolific during the first half of the eighteenth century and the National Library of Scotland's collection contains a number of his pieces.
Broadsides are single sheets of paper, printed on one side, to be read unfolded. They carried public information such as proclamations as well as ballads and news of the day. Cheaply available, they were sold on the streets by pedlars and chapmen. Broadsides offer a valuable insight into many aspects of the society they were published in, and the National Library of Scotland holds over 250,000 of them.

Probable date published: 1724- shelfmark: Ry.III.c.36(124)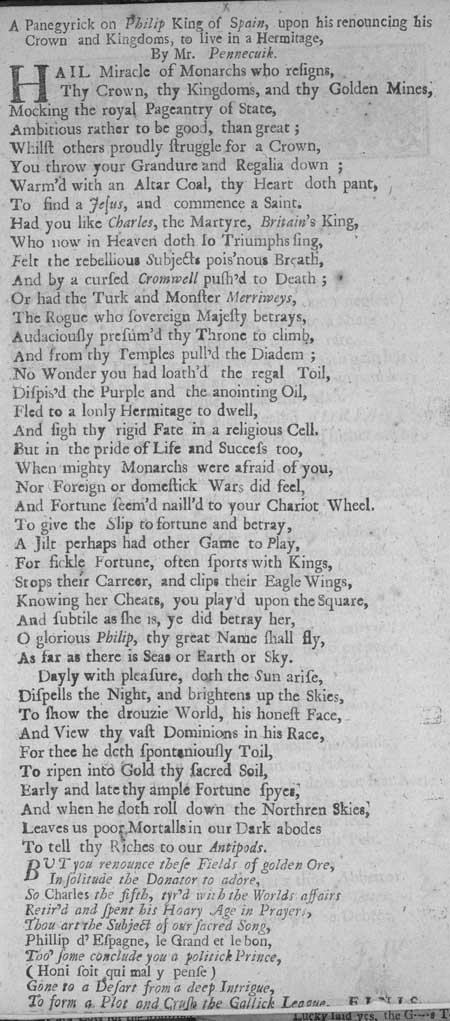 View larger image